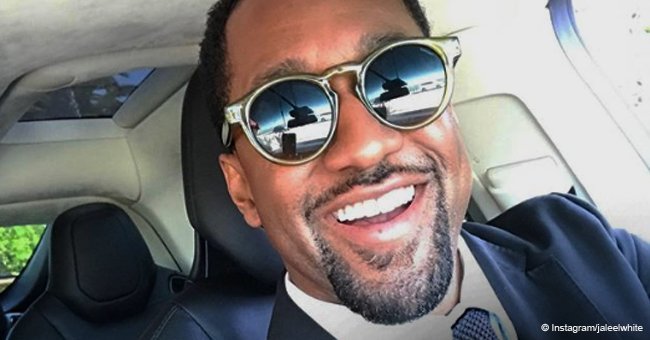 Jaleel White hangs out with look-alike daughter and her girlfriend in adorable photos

Jaleel White is no longer the Winslows' pesky neighbor in "Family Matters." He was recently hanging out with his cute daughter and her girlfriend on an ice cream date and appeared to be loving every bit of it.
Jaleel is seen in a group selfie with his look-alike daughter, Samaya White and her friend. The actor held on to a cup of ice cream and appeared to be taking the shot with his other hand. Not much of their outfits can be seen, but he chose a black face-cap for the outing
In another photo featuring Samaya and her friend, Samaya is side-leaning against a wall and eating an ice cream cone. She is wearing a pink tee over a pair of shorts and running shoes. Her curly hair is pulled back as she sports her best accessory: a charming smile. Her friend is wearing a black and white t-shirt paired with black pants and a jacket tied around the waist. Both girls look pretty excited.
Jaleel accompanies the post with a simple caption:
"I C O N S L I V I N G"
The actor, who is best known for portraying "Steve Urkel," has always been fiercely protective of his daughter who was born in 2009 and with whom he shares a close bond. His Instagram is filled with pictures of their life together: school runs, baseball games, and what have you.
Despite the scandal that rocked his relationship with Samaya's mother, Jaleel remains a doting dad. In 2012, his ex-girlfriend and Samaya's mom, Bridget Hardy, accused him of cheating as well as physical and emotional abuse.
"He hooked up with one girl in our house…he hooked up with a girl within one week of me having the baby."
"Verbally and emotionally, he's abusive. He told me I'm not working; I have no money; I'm white trash. None of it was true."
"He hit me across the chest area, He pushed me into the toilet, and it broke. Water went everywhere, through the walls and even to the kitchen downstairs."
Jaleel, however, denied the accusations:
"I've never been arrested in my life; I have no history of violence. I've never even had a cop show up to my home. …And the ploy is, 'Alright, I know he doesn't want trouble so he'll pay more." And a dollar amount was pushed across the table and child support, monthly child support. Pay this, and everything goes away'".
Please fill in your e-mail so we can share with you our top stories!