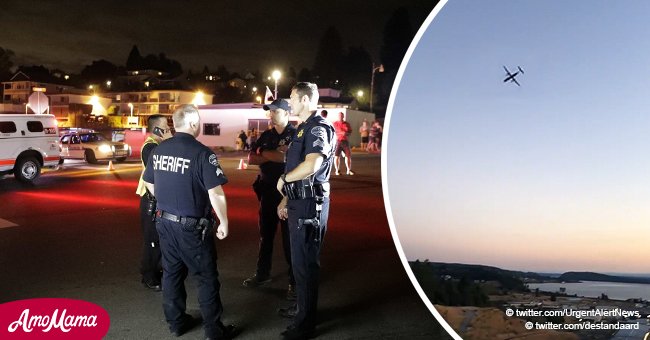 Seattle airline employee hijacks plane and crashes

A commercial plane was taken from the Seattle-Tacoma Airport on Friday night without clearance. Fighter jets intercepted it soon after take-off.
Alaska Airlines confirmed on Twitter that a "Horizon Air Q400 [...] had an unauthorized takeoff from SeaTac," before crashing near Ketron Island.
The hijacker is believed to be a 29-year-old man from Pierce County, Washington, who worked as an airline ground service employee. Officials say he was acting alone.
Read more on our Twitter account, @amomama_usa, and scroll down to see footage of the incident.
THE PILOT WAS "A BROKEN GUY."
His identity is yet to be revealed but traffic controllers who made contact with the plane soon after it took off, addressed the man as "Rich."
He told the traffic controller that he was "not quite ready to bring it down just yet," and added this unauthorized use of the plane would probably mean "jail time for life."
Later on, he said that the people in his life would be disappointed when the news reaches them, and added that he is "just a broken guy, got a few screws loose."
Ed Toyer from the sheriff's office has since tweeted that Rich was "a single suicide male." They know his identity and he was acting alone.
"A JOYRIDE GONE TERRIBLY WRONG."
Two fighter jets were dispatched from Portland soon after Rich took off to keep the "plane out of harms [sic] way and people on the ground safe."
Sheriff Paul Pastor confirmed that it wasn't a terrorist act because "most terrorists don't do loops over the water." He believed that it was a joyride that ended terribly.
THE AFTERMATH
The plane went down an hour later and did not crash into any buildings or ground structures, and none of the Ketron residents were injured.
Horizon Air COO Constance von Muehlen said in a statement that no other passengers or crew were on board. The airport was shut down for a short period.
The airline is working in conjunction with the FBI and the Federal Aviation Administration to find answers.
Please fill in your e-mail so we can share with you our top stories!