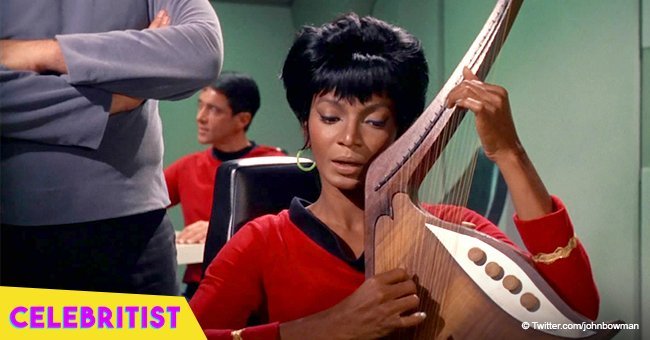 Beloved 'Star Trek' star reportedly diagnosed with dementia
Recent reports confirm the sad news that the actress who portrayed the iconic role, Lieutenant Uhura in 'Star Trek' has been suffering from dementia. Details of the severity of her condition have been revealed as well as the measures her son has taken to ensure her protection.
'Star Trek' star Nichelle Nichols, aka Lieutenant Uhura in the film has been diagnosed with dementia.
According to medical reports acquired by TMZ, the 85-year-old actress has "moderate progressive dementia" and as a result, has "major impairment" of her short-term memory. This includes a deficiency in understanding abstractions, such as place, time, as well as immediate recall.
Though her short-term memory has suffered a great deal, her long-term memory is still functioning, according to her physician, Dr. Meena Makhijani, who specializes in osteopathic medicine and has been treating Nichols for 2-3 years now. Areas including physical orientation of her body, comprehension, verbal communication, recognition of people, concentration, planning, and logic are still doing well.
In 2015, Nichols was rushed to the hospital after suffering a mild stroke. Just this May, her son, Kyle Johnson took legal measures to assign four fiduciaries to his mother as her conservators to avoid other people taking advantage of her condition.
Nichols has been a significant contributor to the advancement of African-American women in film. Spanning a career of over fifty years, she was one of the first black women to portray a non-stereotypical black person on screen. However, she was also criticized for her alleged involvement with the creator of 'Star Trek', the late Gene Roddenberry, believed to be the reason she was given a role in the film. In her defense, Nichols claimed she and Roddenberry, who died in 1991, had an affair for several years in the 1960's which ended years before 'Star Trek' was launched.
Nichols was a singer first becoming an actress. She performed alongside Duke Ellington and Lionel Hampton. She also actively recruited women into NASA.
Nichols' acting appearances have been scarcer in the recent years. She was in several episodes of 'Heroes' in 2007 and also appeared on 'The Young and The Restless' in 2016. Her most recent public appearance was at this year's Comic-Con where she spoke about her iconic role in 'Star Trek.'
Please fill in your e-mail so we can share with you our top stories!