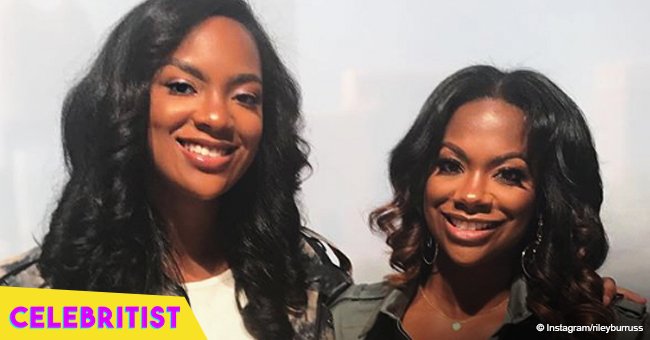 Kandi Burruss' daughter stuns in denim mini-shorts & jacket folllowing major weight loss

Riley Burruss is looking good in her new shape, and she has herself to thank for that after she underwent a rigorous training process with a personal trainer. Now, she is more confident flaunting her new physique in some mini-shorts that showed off her legs.
Now that the "Real Housewives of Atlanta" star Kandi Burrus launched her annual Bedroom Kandi convention in Atlanta, Riley and the rest of the Tucker family were present to support her in the promotion of the numerous sexy products she is selling.
During the event, Riley accompanied her little brother Ace and her grandmother Mama Joyce as they went through Kandi's exhibit.
Joining Kandi for her launch was Kelly Price, and she made sure to show appreciation for the singer who definitely set the mood right during the event. On Instagram, the businesswoman thanked Price for gracing the stage during the kick-off party.
"Last night @mskellyprice set the stage on fire at my @bedroomkandi kick-off party! This is our 6th annual #BedroomKandi convention & I am so proud of our growth as a company. Join the #BKfamily at BedroomKandi.com or thru a #BKconsultant."
Of course, Burruss made sure to show appreciation for her children as well, who dressed up and showed up to support their lovely mother in her passion. Looking fashionable in her Nicki Minaj "Queen" denim jacket, Riley flaunted her long legs in a pair of ripped mini-shorts, which had fans wondering when she would be starting a modeling career. In front of the 15-year-old stood little Ace, who matched his older sister with a pair of blue shorts and a printed shirt.
Fans took to the Instagram comments section to question why Riley seems to have not thought about starting her own modeling career, as it is clearly in the cards.
"Riley needs to stop playing & start her modeling career already. I see a bright future for her in high fashion magazines."
"Riley looks amazing! I love Riley and her journey. She seems so free and confident now. Happy inside and out. Great job Riley. You inspire women of all ages. Because you have inspired me.Such a remarkable progress! Good work!"
The teenager previously wowed the internet when it was revealed that she had lost a total of 52 pounds after a rigorous fitness regimen with celebrity trainer Russel Spence. The duo has been working overtime at the gym, and after a good few months, her hard work has finally paid off. From weighing 225 pounds before her fitness journey, Riley has dropped to an impressive 168 pounds.
While this is already an incredible feat, Riley continues to keep up with her healthy lifestyle to ensure that she maintains her weight and possibly even shed some more.
Please fill in your e-mail so we can share with you our top stories!