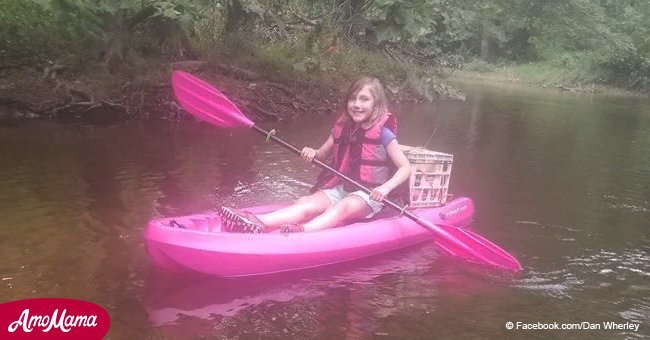 Rabid beaver attacks father and 7-year-old daughter on kayaking trip (video)
An Adams County resident and his 7-year-old daughter fended off a violent beaver while out kayaking on Conewago Creek over the weekend.
Dan Wherley shared the incident on his Facebook page and explained that the beaver attacked his kayak. Despite him beating it with the paddle, "it wouldn't give up."
He also discussed the incident with Fox 8 and said they were excited at first "to see wildlife during the outing," but their excitement turned to horror.
Follow our Twitter account @amomama for similar stories and scroll down for the footage.
The beaver eventually gave up on Wherley's kayak but then headed straight for his daughter, Layla. The concerned father told her to get to the shore.
He jumped out of the kayak and made it to hers just as the beaver was hauling himself up into it, with Layla "screaming bloody murder" at the front.
Wherley didn't have any weapons on him and punched the beaver off the kayak. As he made his way to the river bank with Layla, the beaver swam after them again.
This time, Wherley had a rock, but despite hitting the beaver several times, it kept coming after them. He eventually got the upper hand and killed the aggressive animal.
Wherley contacted the PA Game Commission as well as the Department of Health and the Department of Agriculture who had the beaver tested.
They confirmed that the beaver had rabies and that it was the first reported rabid beaver case in Adams County. He added:
"They had me go to the hospital and get rabies shot since I had the beavers blood and all on me."
A local game warden also told Wherley that he never saw or heard of a beaver attacking humans before, and their story soon made headlines.
Beavers were once hunted nearly to the point of extinction. The hunting of beavers in Europe was banned, and new colonies were introduced into the population.
A few years ago, a 60-year-old fisherman from Ostromechevo, Belarus, was killed by a beaver after he tried to pose with the animal for a photo.
The beaver bit his leg, hitting the main artery. His family and friends tried to stop the bleeding but to no avail.
Please fill in your e-mail so we can share with you our top stories!