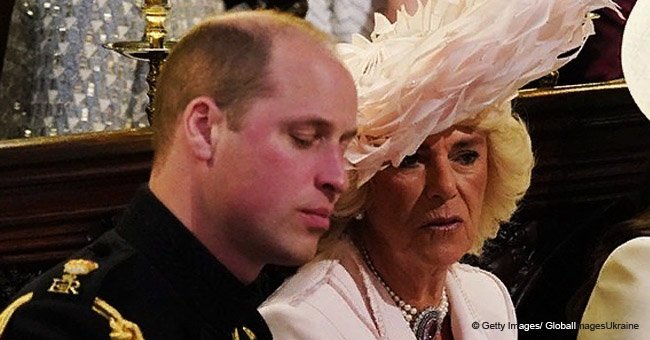 Prince William awkwardly didn't mention stepmother Camilla in a Princess Diana documentary
The prince neglected to mention his stepmother when he spoke about his children's grandmothers during a documentary honoring his mother.
Prince William's statement in the documentary "Our Mother, Diana: Her Life and Legacy" about how he keeps his mother's memory alive for his son George and daughter Charlotte seemed like a diss at his stepmother, Camilla, Duchess of Cornwall.
Prince William and Prince Harry commissioned the documentary to remember her on the 20th anniversary of their mother's death.
The brothers spoke candidly about their mother in the documentary, which aired on HBO on July 24, 2017.
William, 36, who is married to Catherine, Duchess of Cambridge, spoke about how he makes sure Prince George and Prince Charlotte know about Diana. It is a fair assumption that he will extend that to their newest family member, Prince Louis.
"We've got more photos up around the house now of her and we talk about her a bit and stuff. It's hard, because obviously [my wife, Kate Middleton], didn't know her, so she cannot really provide that, that level of detail," he said. "So, I do regularly when putting George or Charlotte to bed, talk about her and just try and remind them that there are two grandmothers — there were two grandmothers — in their lives. So, it's important that they know who she was and that she existed."
It's obvious that the grandmothers he was referring to are his mother, Diana, and Catherine's mother, Carole Middleton, otherwise he might have said there were three grandmothers in his children's lives.
People were left wondering if William had deliberately left his stepmother, the Duchess of Cornwall, out of the equation,but it seems unlikely given that William and Harry have only had good words for Camilla in the past.
In a 2005 interview, Harry said of their stepmother: "She's a wonderful woman, and she's made our father, very, very happy, which is the most important thing. William and I love her to bits."
Prince Charles, William and Harry's father, married Camilla in 2005, eight years after Diana's death and seven years after their divorce.
As youngsters, William and Harry were said to have harbored ill feelings toward Camilla, with Diana calling her "Charles's lady."
Two months before Diana's car crash in Paris, Charles had made moves to introduce his sons to Camilla, and the boys were reportedly not pleased.
But by the time Charles and Camilla married, William and Harry had already accepted her as part of their lives.
Please fill in your e-mail so we can share with you our top stories!