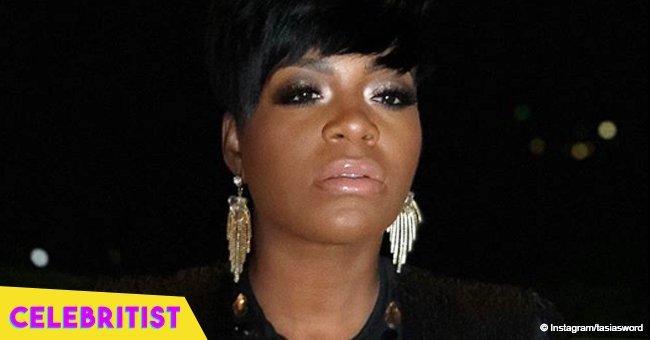 Fantasia stuns in long-sleeved midi dress in photo with her rarely seen father in church

Singer and songwriter, Fantasia Barrino regularly updates her Instagram followers with pictures of her family, especially her husband. This time, however, she shared a photo of one of her family members we hardly see- her father with whom she has a striking resemblance.
Fantasia and her father, Joseph Barrino can be seen in a church auditorium as deduced from her caption. Fantasia looked stunning in a midi-length patterned dress which she paired with light jewelry, a black clutch, sunglasses, and strappy red sandals. Her father also looked dashing in his formal shirt, burgundy jacket, and denim pants. In his hand is what appears to be a copy of the Bible.
Fantasia shared the post with her 3.3million followers, including a caption that reflects her love for the older man:
"Church with Pops Today #LoveAndFaith #church #family Love Ya Daddy @kosmios_ all the ladies at church loved my outfit. Thanks."
Joseph Barrino has been known to play the role of a supportive father to his daughter in the past. Back in 2010 when Fantasia tried to commit suicide by overdosing on aspirin and sleeping pills, Joseph was there for her and her nine-year-old daughter, Zion.
At a time when Fantasia's media reputation and personal life was not at its best, Joseph shared updates with the media, assuring everyone that his daughter would be alright:
"Zion was staying with both myself and her grandmother, but she is back with Fantasia now."
"She is getting a lot of comfort with being with her daughter and the doctors have told her just to rest."
"My daughter just needs time – she is a strong girl, and with God's help she will be okay."
He went as far as sending appreciation messages to her fans and supporters, still reassuring the world of Fantasia's recovery:
"Fantasia was pleased with all the messages of support from her fans, but just now she just needs to rest and bring everything back together. …This has been a difficult time, but she will pull through."
The 34-year old American Idol winner has come a long way from the emotionally battered woman in 2010. She is now married to Kendall Taylor, a local courier COO. She said of him:
"This Man. Covers and prays for me and my children EVERY morning. This Man. Loves My Father in Heaven and his name is God. This Man allows me to just be a woman. No more Hurt because King Kendall will never let that happen.."
Fantasia and Taylor tied the knot in 2015.
Please fill in your e-mail so we can share with you our top stories!