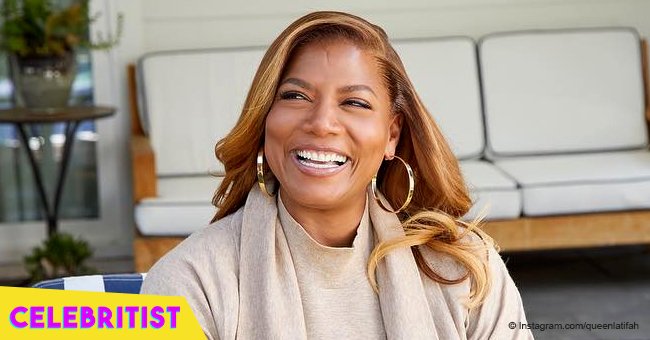 Queen Latifah looks amazing in yellow boxer costume in throwback picture
Queen Latifah recently took to Instagram to share a photo from that time she christened a ship and performed aboard in the cruise line's version of the show "Lip Sync Battle: Horizon," rocking a yellow outfit.
In a photo shared to her Instagram account a few days ago, Queen Latifah looks stunning donning a yellow satin boxer costume with a pair of yellow and black boots as she stands triumphally in the middle of the stage holding her victory belt.
The moment was captured after she performed a rendition of the Weather Girls classic "It's Raining Men" aboard the Carnival Horizon, Carnival Cruise Line's newest ship, last May. The performance was part of the ship's version of the show "Lip Sync Battle," where Latifah was once crowned as the champion against Marlon Wayans.
This time, the actress and rapper went against Philadelphia Eagles Super Bowl champion, Jake Elliott, who performed a version of the Whitesnake's arena anthem "Here I Go Again."
"My time aboard Carnival Horizon was nothing short of incredible. In addition to having the honor of serving as the ship's godmother, meeting the amazing kids from St. Jude and their families and squaring off against Jake in an all-out Lip Sync Battle is certainly something I will always cherish," said Latifah to Cruising Trends Today.
THE ESSENCE CREATORS AND MAKERS FUND
Besides being the godmother of a cruise line, the "Girls' Trip" star recently announced a new partnership with Essence to create a multimillionaire initiative to support African American creators to make their projects a reality with the financial support they need.
The Essence Creators and Makers Fund, announced last month by Essence Ventures LLC, will count with $20 million to "create and finance film, television, digital and documentary-style content that reflect the lives and experiences of women of color." the statement adds.
"It will also seek to collaborate with content creators globally focused on Essence's diverse and dynamic core audience of Black women, with the content produced encompassing themes that relate and connect across audiences."
Latifah's production company, Latifah's Flavor Unit Entertainment, will be working closely with the organization. The 48-year-old said in the statement:
"Essence has always celebrated our culture and was there when it was hard to find stories and images for people who look like me. Shakim [Compere, Latifah's business partner] and I have built our business on creating content, whether it be film, television or music, for those very same people. We have realized that although they come from our perspective, these narratives are universal, so for us to join forces is thrilling."
Please fill in your e-mail so we can share with you our top stories!