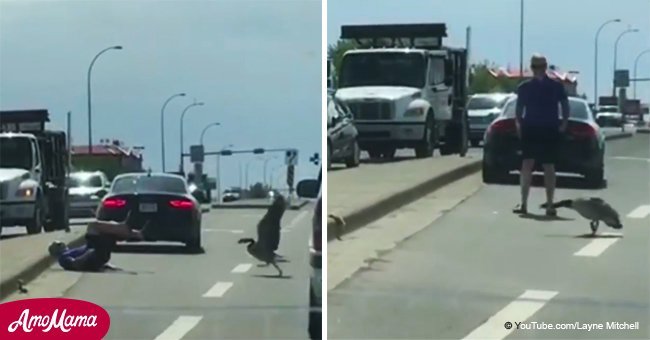 'Fowl' play? Good Samaritan gets attacked by an angry goose
A man was attacked by an adult goose in the middle of the road in Sherwood Park after attempting to help its goslings cross the street.
Ian and Salena Messal were driving and on their way to buy groceries when they got halted on Broadmoor Blvd. by a traffic jam.
The husband and wife recalled they had no idea what was causing the traffic at first, but they soon found out that it was because a family of geese was attempting to cross the street.
"I can't remember how many geese there were, but I know there was a mama and dada. They were trying to get across the street," said Salena.
Follow us on Twitter at AmoMama USA for more viral stories and updates.
Because there was a curb in the middle of the road, the goslings were struggling to cross. After a while, a man got out of his vehicle and tried to help them.
Things became intense when one of the geese aggressively flapped its wings when the man got too close to the goslings.
Salena shared, "I just started recording because I was like, 'You don't see that every day.' I'm not sure which, mom or dad, but they were not happy."
The attack happened fast, and the goose started pecking at the man, who fell several times in the middle of the road.
The wife recalled how she felt bad for the man since he was only trying to help, but added that she also found the entire situation funny.
"I was just, 'Oh, you poor guy.' But it was pretty funny to watch," she said.
Salena told CBC News that the man didn't seem injured but said that she would never approach a goose after what she saw.
According to a provincial game bird specialist Jason Caswell, Salena was right to avoid a family of geese.
He said to the news outlet, "To be honest if it was me, I would stop my car and just let them by."
He said it's natural for male geese to protect their young. They are prone to attacking anyone who comes close to their goslings.
Although, Caswell added that once 30 days have passed, the male geese would be less aggressive and will no longer attack humans.
Please fill in your e-mail so we can share with you our top stories!