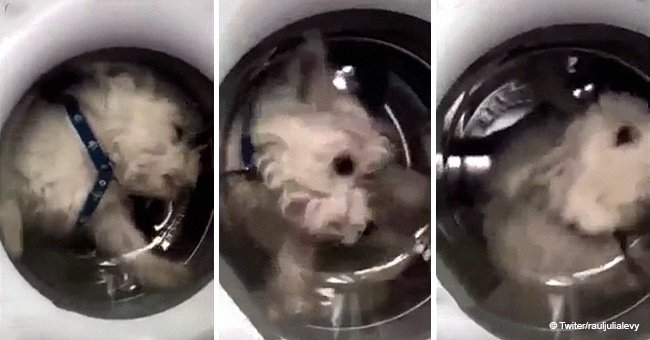 The horrific moment a woman filmed her dog inside a washing machine

A popular Argentinean social media star named Tamara Rotman thought it would be a good idea to share a disturbing post on Instagram. She posted a video of her dog in a washing machine.
The pet appeared distressed as it ran in one spot trying to get out. The caption attached to the post showed that Rotman thought the post would be received badly.
Tamara Rotman posted the footage of her West Highland Terrier called Coco looking distressed in a washing machine. Its face was seen squashed against the door.
It's thought that the social media star made the clip in an attempt to lure more Instagram followers. In the footage, the dog tries to run out but the motion of his paws appears to make the drum spin instead.
For more on this story go to our Twitter account @amomama_usa. Rotman posted the question "are you going to be really traumatised?" alongside the footage.
Instagram users responded with rage and condemned her 'stupidity.' Some even called for her to receive an animal abuse charge.
After receiving many negative comments on her post Rotman quickly deleted her account. When the post went up she had more than 3000 followers.
However, within a few hours, she had re-activated the account. This time she posted a video of Coco running joyfully across the grass in an attempt to redeem herself.
She included an explanation for her actions. The social media star claimed that the machine was switched off and that Coco was in it for only ten seconds.
She even alleged that the video was edited to make the events look worse. Rotman wrote in her post that she actually treats her pet like a son.
Her claims were backed up by people that know her personally and that have witnessed the love she has for Coco. Rotman also attacked Instagram users who threatened her, arguing that they should look at their own actions before criticizing hers.
Please fill in your e-mail so we can share with you our top stories!