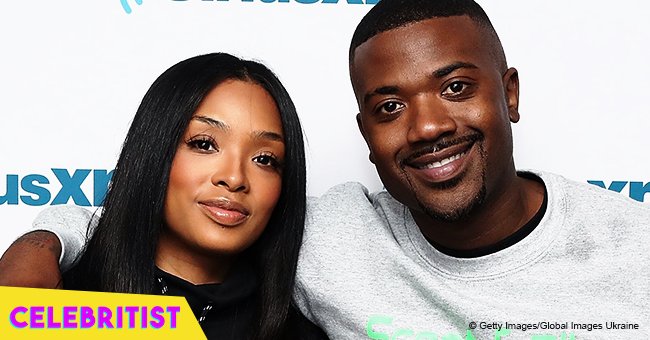 Ray J sends love to wife while holding baby daughter on 2nd wedding anniversary in sweet video
Singer and TV personality Ray J took to Instagram to honor his wife Princess Love on their second wedding anniversary in a very original and cute way.
The video portrayed Ray with no shirt on showing off his tattooed body while holding the couple's daughter, Melody, and singing a song related to their anniversary. After repeating the lyrics for a couple of times, he started walking to the bedroom.
Princess, Ray's wife, was sitting on the bed covering herself with a blanket. Ray sang there for a while and finally left the room with the baby, who focused her eyes on the camera throughout the entire video.
For the caption, the proud husband and father wrote: "It's our Anniversary!! 2years married today! I love you @princesslove and my beautiful babygirl [sic]."
As soon as Ray uploaded that video, her fans and followers took to the comment section to share their thoughts. One of them was Instagram user @mrsunpredictable1, who pointed out that Melody was so big and pretty looking, just like her mother.
PRINCESS LOVE'S TRIBUTE
Ray was not the only member of the family who posted something on Instagram to honor such important milestone as Princess also took to her social media account to share a photo of herself and Ray sharing a kiss during the wedding.
In the post, Princess was gently touching her husband's face while kissing him in front of several people who were recording everything in what appeared to be the couple's first dance.
"Happy 2nd Anniversary to my husband and best friend! Thank you for blessing me with the perfect little mini me. Our little family is complete (for now)," wrote Princess in the caption.
FANS BLAMED THE COUPLE'S PARENTHOOD SKILLS
More than a week ago, Ray shared a photo of Princess and Melody sleeping next to each other on their bellies. However, several followers blamed and even labeled them as careless.
They wrote so because babies shouldn't sleep on their belly because it is harder for them to breath, said Rachel Moon, M.D., director of academic development at Children's National Health System.
Please fill in your e-mail so we can share with you our top stories!