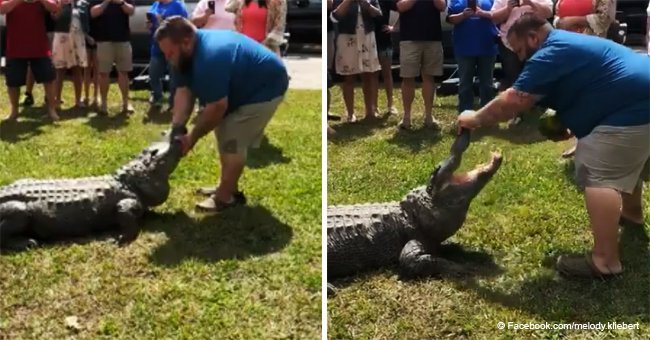 Man taunts giant 'gator as part of a daring baby gender reveal
Ideas for gender reveal parties are a dime a dozen, but this couple took it one step further and used an alligator as a gimmick for their party.
Mike Kliebert and Rebecca Miler from Ponchatoula, Louisana, made sure to include every family member, even the 61-year-old alligator, Sally.
Read more on our Twitter account @amomama_usa and scroll down to see the bewildering footage.
A video of the party was shared on Facebook and received more than 10 million views, 20,000 reactions and 125,000 shares in just over five months.
Sally, who is partially blind and was hatched by Miller's grandfather in the late fifties, was lined up with the rest of her family.
Kliebert then approached Sally, opened her jaw and gave her a watermelon to chew on.
When her jaws crushed the melon, blue slime spilled out and revealed that the couple is expecting a baby boy.
The couple has since welcomed their baby boy, and River Kliebert was born on August 3. Kliebert said on Facebook:
"Baby River Kliebert is here! Rebecca Miller did a great job! I love y'all."
Their video was met with mixed feelings. While some observers marveled at the alligator, others criticized the family for exploiting the reptile.
It also appears as though Sally was sedated, but Kliebert assured the critics that she was lethargic from old age.
Amongst the outspoken critics, are PETA who said that alligators are shy creatures and shouldn't be "exploited like this for entertainment." He added:
"We absolutely discourage anyone from using alligators in this way."
In other news, a crocodile from Katherine measuring 4.71 meters was caught by NT Parks And Wildlife. Local rangers have been on the search for the croc for nearly a decade.
The area is known for the large saltwater crocodiles, and a 3.67-meter reptile was caught on a Pine Creek property a few months ago.
Please fill in your e-mail so we can share with you our top stories!