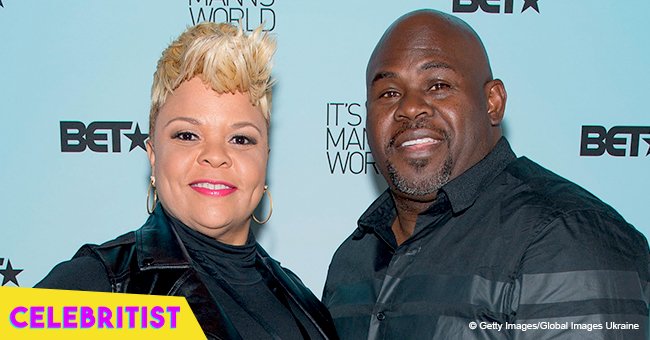 Tamela Mann sings 'Happy Birthday' to husband David in sweet video

David Mann delights in his wife's sweet voice as she serenades him in a video days after his birthday.
Tamela Mann's husband David Mann just turned a year older and he wanted no one else to sing him the birthday song but his wife.
In a recent video the Manns shared on their joint Instagram account, the birthday celebrant turned down a friend's rendition of 'Happy Birthday' in favor of his wife's. Pamela sweetly sang to her husband of 30 years who delighted in her enchanting voice. They wore party hats on their heads and colorful eyewear with "happy birthday" scrawled across.
The couple was joined by two other friends, one of which, the man, earlier attempted to serenade David who jokingly disapproved of his voice.
Just last week it was Tamela who celebrated her birthday and David made sure to make her feel special. He followed her with a camera and gushed over her along the way. Tamela was dressed to impress in a black evening dress, no doubt glammed up for her 52nd birthday celebration. Her husband exclaimed, "52 never looked so good."
In April, David and Tamela celebrated 30 years of marital bliss. To mark the occasion, David shared a photo from their wedding day in 1988 and penned a heartfelt message for his wife.
"30 years ago today you said yes and made me the happiest man on earth I can't put in to words how much I Love you Tam I'm great full to do LIFE WITH YOU . HAPPY ANNIVERSARY MY LOVE."
The couple met way back in high school and bonded over their love for music. Now more than three decades later, their love still shines, thanks to their secret of keeping their personal and professional lives separate. And when it comes to prioritizing their responsibilities, the couple maintains their marriage outweighs everything else.
David and Tamela have four children, three of whom are girls namely, Joy, 27, Faith, 22, and Tamera, 19. Their son, Daniel, is 26. Their youngest, Tamera, who they often refer to as their "spoiled baby" had been struggling with her weight when she decided last year to undergo a weight-loss surgery. In July, she proudly showcased a slimmer figure in a series of posts flaunting her curves.
Please fill in your e-mail so we can share with you our top stories!