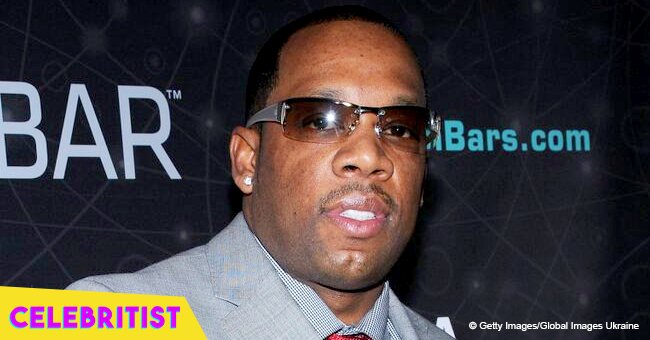 Mike Bivins warms hearts in pic with gorgeous wife & their 4 daughters on 50th birthday

Mike Bivins celebrated his 50th birthday at a place close to his heart and with the people that matter most. He shared a photo grateful for the opportunity to be back home along with his family as he was honored with a special tribute.
Mike Bivins celebrated his 50th birthday by returning to his roots "where it all began." On August 10, the music legend was back in his native Roxbury in Boston for the renaming of the Ramsey Park basketball court in his honor and in celebration of his golden year.
"Where it all Started Boston," Mike began in his caption accompanying a photo of his family of six. His wife and their four girls were all smiles as the founder of New Edition carried his newborn in one arm. They posed against the backdrop of Boston's skyline and it was clearly a happy family moment. In his caption, Mike continued,
"A Little bit of Love is all it takes ! ! ! Good am & God has Blessings for all of us and together we can share them 8 - 10 - 18!"
He also thanked his co-members in New Edition and the other group he founded, Bell Biv DeVoe, who also attended the Ramsey Park tribute.
"Thank you my brothers in New Edition 4 changing my family's Life and Bell Biv DeVoe for being born and also Biv Entertainment a branch of the Family Tree... Michael L.Bivins #MLB50th. 6:17"
It was only in June when Mike celebrated another homecoming, this time to his high school in Belmont, Massachusetts where he received an honorary degree. Wearing a maroon cap and gown, and holding a basketball in one hand, Mike proudly showed off his new diploma in a photo he shared from that day.
Mike left his high school during his sophomore year in 1985 and went out to form the band New Edition. Later, he became the manager and producer of the record-breaking group Boyz II Men and founded the trio Bell Biv DeVoe. 34 years later, Mike is happy his alma mater recognized him for his accomplishments and honored him with a diploma.
"Thank You God for all you do in my life and my family, friends & fans who hold me down aka Cap & Gown #BelmontHighSchool #Class1986 #2018 #Bivfam #MLB50th God Bless."
Now a father of four girls with his wife Teasha, Mike is proud of the fact that his kids refer to him as daddy and not their father. He explained the difference in 2015 in an open letter he penned for BlackAmericaWeb.
"This is my perspective on daddies and fathers. Your kids call you Daddy because of the time you spend with them and the love you share with words and moments in the same house. Fathers sometimes don't live in the house and come around every now and again. When some kids introduce their dads, they say 'That's my father.' My kids say, 'That's my daddy.'"
For Mike Bivins, turning 50 was all about looking back to what was and rejoicing in what he has today – a family, a career, and a home he can always return to, welcoming him every time.
Please fill in your e-mail so we can share with you our top stories!