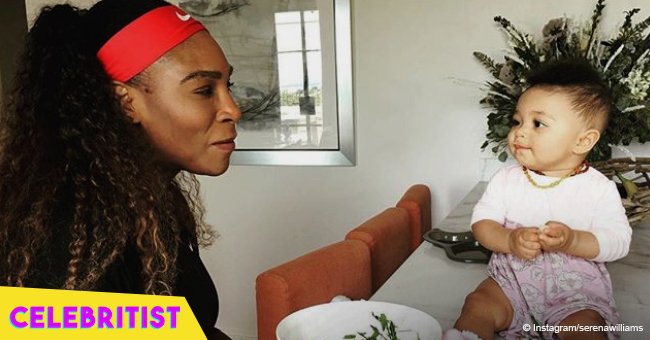 Serena Williams' baby daughter grabs attention, walking around & playing with doll in video
The daughter of one of the best tennis players in history, Serena Williams, was recorded walking while chasing the family dog and holding one of her dolls.
Serena took to her Instagram Story to share a couple of videos of baby Olympia walking around the house while holding a baby doll in her hand. The 11-month-old girl was portrayed wearing a pink onesie while quickly chasing the family's dog.
After that, she tried to walk up the stairs but ultimately decided not to do it. Instead, she tossed the baby doll to the floor and left it there while she moved to a different place.
In the second recording, the doll was shown under a kitchen shelf while Olympia walked past it as if it wasn't important.
As soon as The Shade Room's Instagram account uploaded those videos, Serena's fans and followers took to the comment section to share their thoughts. One of them was Instagram user @bmickey89, who wondered how come Olympia was walking if she was too young.
However, walking before turning one-year-old was not the only thing that Olympia had done as she even took her first trip on a private plane when she was 10 weeks old. After that, she has traveled a couple of times again to be at the Royal wedding and in Wimbledon.
SERENA MISSED OLYMPIA'S FIRST STEPS
Even though the tennis player confessed that she had not spent a single day without her daughter yet, she shared a tweet recently revealing that the baby had taken her first steps while she was training.
The once-in-a-lifetime moment took place in the UK while Serena was getting ready for a match at the Wimbledon tournament. Olympia took her first steps and, of course, the proud mother missed it. Clearly sad for not being present during such a milestone, Serena used her Twitter account to reveal how she felt, confessing that she cried.
HER SUPPORTIVE FANS MADE EVERYTHING EASIER
Thankfully, several people replied to her tweet and sent their love. One of them was Christine Teigen, John Legend's wife, who pointed out that Olympia was probably practicing so her mother could see the real ones.
User Donna Wolfe revealed that, as a babysitter, she never tells the parents that their babies did their "firsts," which is a good way to make them believe they were present for them.
Serena was so glad that her followers showed their support on social media that she even thanked them during a press conference at Wimbledon.
"It was so positive. So many people, basically everyone in the mentions was like, 'Oh, so did I. It's no big deal.' Or, 'I was at work, I was here.' I was just like, 'Wow.' I didn't know that was a common thing. I felt really glad that I posted that," Serena confessed.
At the moment, the tennis player is focused on the upcoming US Open wherein she plans to take the trophy home.
Please fill in your e-mail so we can share with you our top stories!