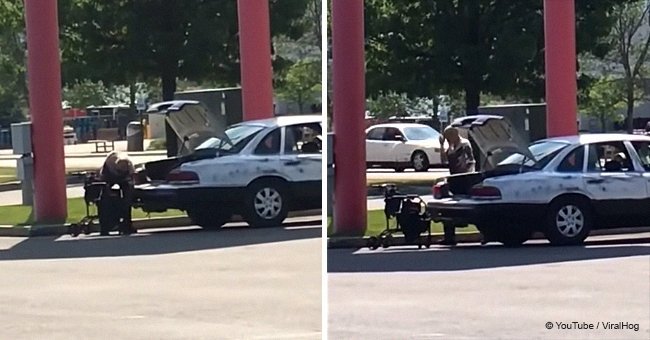 Bizarre video captures 'disabled' beggar getting out of wheelchair to sit in his car
A concerned resident from Post Falls in Idaho, USA, is warning the community against two men who beg for money outside the local Wallmart.
Tim Stephens was out with his grandchildren when he saw one of the men in a wheelchair with a sign that read: "USMC (United States Marine Corp) thanks and God Bless."
The man also had an eyepatch and Stephens assumed he was blind. He returned to his car and parked in a shady spot at the other end of the parking lot.
He explained that his grandchildren wanted to eat their food, that's when he captured the footage. Scroll down to see the shocking video clip.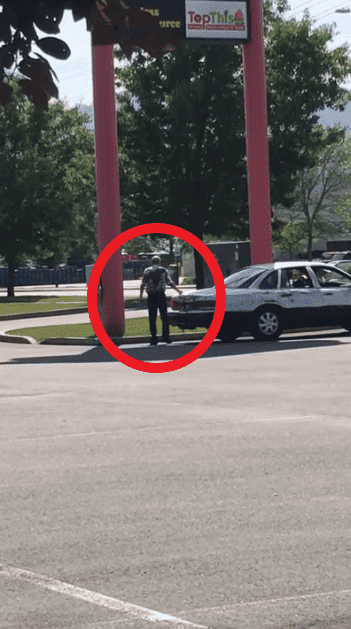 Source: YouTube/ViralHog
Follow our Twitter account, @amomama_usa for similar stories. While waiting for his children to finish their snack, Stephens saw the "war veteran" man get up from his wheelchair.
The "disabled" man pushed his wheelchair across the parking lot towards a white car that just pulled up a few seconds earlier.
The driver got out of the vehicle, took the "beggar's" sign and walked to a shopping center across the street where he continued the "shift."
The "marine" quickly folded the wheelchair and loaded it into the trunk of the car before getting into the passenger's seat.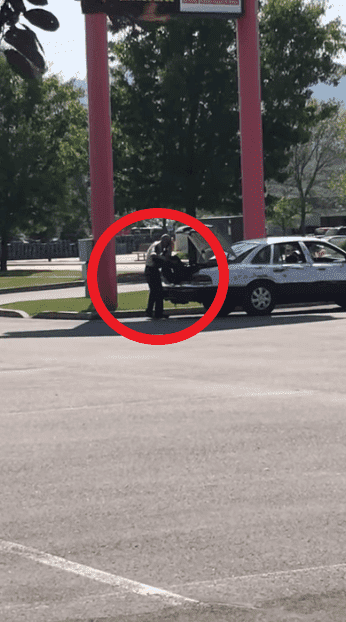 Source: YouTube/ViralHog
Stephens was furious and went over to confront the fraudulent beggar. He found the unnamed man in the front sheet, minus his eye patch, counting money.
When he asked the man if he was counting all the money he stole from people; the "beggar" snidely replied, "every penny."
Daily Mail quoted Stephens as saying that the "beggar" can be very lucky he had his grandchildren with him, or the situation might have escalated.
He warned locals to be on the lookout for the two thieves, and not to be drawn into their lies. In other news, a Walmart cashier helped a customer out of the scam.
The elderly gentleman was on the verge of wiring money to whom he thought was his son when the cashier realized that his story doesn't add up. Read more about it here.
Please fill in your e-mail so we can share with you our top stories!