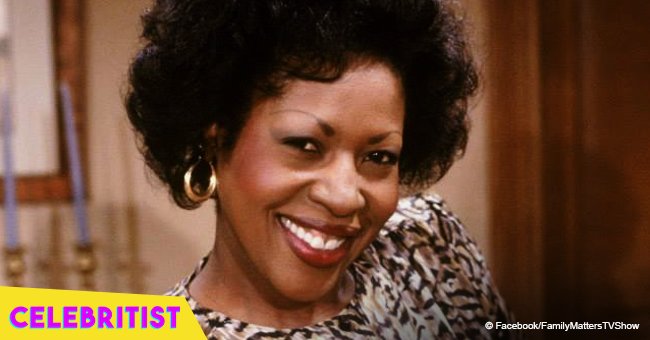 Remember 'Family Matters' mom Harriette Winslow? She is now 68 & shares pic with her granddaughter
The American television actress and singer may be in her mid-60's, but she isn't about to let that stop her from continuing her successful career and having a blast while she does so.
JoMarie Payton was among the cast of "Family Matters" for 200 episodes from 1989 until 1997 when she left mid-season. Her role, that of matriarch Harriette Winslow, was later recast for the remainder of the ninth season.
It was a difficult departure for both Payton and her on-screen family, many of who described her loss from the show as akin to the feelings of the end of a marriage.
"It was hard for me after nine years of doing something with one person. It's like getting a divorce and then marrying somebody else," Reginald VelJohnson, who played family patriarch Carl, said. "It was weird."
Darius McCrary, who played Eddie Winslow, added to that sentiment:
"No disrespect to Judyann … but I felt like my mom was gone, you know? I did my job as an actor, but there were just so many things that had gone on behind the scenes that the audience wasn't privy to that had kind of already shut it down."
But Payton's departure was actually planned for two years earlier, as she was unhappy both personally and professionally, and wanted a change from the show.
While it's likely the role Payton is best known for, the 68-year-old has racked up 53 acting credits throughout her lengthy career, many of which are recurring roles in popular series such as "Will and Grace," "Desperate Housewives," and "The Proud Family."
Just this year she appeared in a live-action adaptation of the popular children's fairytale "The Little Mermaid."
Aside from the many names she has been known by on the small-screen, there is one that is likely more closer to her heart than what thousands of nameless fans know her as: grandma.
Payton has been married four times in her life. First to Marc France from 1980 to 1987, with whom she had a daughter, Chantale France, in 1984. Then she married Rodney Noble in 1993, until 1998. Shortly after her divorce was finalized, she married Landrus Clark. They divorced in 2004. She is currently still married to her fourth husband, Leonard Downs, since 2007.
Her daughter, Chantale, also has a daughter of her own, Kamryn.
The youngster recently made an appearance in a photo shared to Facebook by her proud grandmother. Payton celebrated her birthday on August 3, but instead of a lavish party with guests from all over the entertainment industry, she attended her granddaughter's theater production of "Mary Poppins."
"I did many things yesterday to celebrate my special day but, the best was going to the End of Summer performance by all the Summer Camp kids at Miramar Cultural Performing Arts Center and Arts Park," she wrote as part of her caption.
In the image, Kamryn stood behind her grandmother in a black dress with white daisies all over it. Her hair, done up in braids, were partially tied back with the rest hanging over her shoulders. Payton wore an earthy-toned loose fitting shirt, and a big smile.
Please fill in your e-mail so we can share with you our top stories!