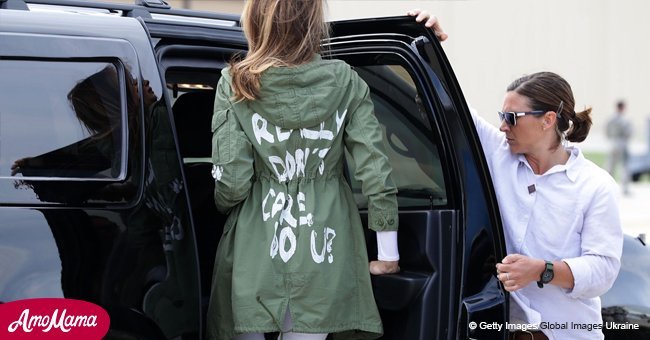 Melania's fashion choices are intended to 'punish her husband,' former White House aide says
Omarosa Manigault Newman discussed in her new book that First Lady Melania Trump has been "punishing her husband" through her controversial fashion choices.
Manigault Newman, a former White House aide, recently released a book entitled "Unhinged," where she discussed Melania's rebellious fashion picks, specifically her "I really don't care" jacket.
The former aide claimed that Melania wore the controversial jacket on purpose to make her husband, President Donald Trump, look foolish.
Melania was seen wearing the Zara jacket with the words "I REALLY DON'T CARE, DO U?" painted on the back while boarding a plane to visit the separated children at an immigration facility in Texas in June 2018.
Follow us on Twitter at AmoMama USA for more details and updates.
According to an excerpt exclusively obtained by the Daily Mail at the time, Manigault Newman wrote, "It's my opinion that Melania was forced to go to the border that day in June, essentially, to mop up her husband's mess."
She continued to suggest that Melania wore the jacket to "hurt" Trump since the first lady was allegedly forced to visit the children and fix her husband's mess for him.
"Not that Melania doesn't have compassion for immigrant children; I'm sure she does. But she gladly, spitefully, wrecked her husband's directives to make him look foolish," added Manigault Newman.
Despite her claims, the former aide did not present any evidence to support the allegations she said about Melania.
As for Melania's point of view, her spokesperson, Stephanie Grisham, spoke with People and suggested that the White House is disappointed with Manigault Newman.
Grisham was quick to address that it was only a jacket and that there was no hidden message behind it.
"Mrs. Trump rarely, if ever, interacted with Omarosa. It's disappointing to her that she is lashing out and retaliating in such a self-serving way, especially after all the opportunities given to her by the president," said Grisham.
Melania was at the receiving end of criticism in June when she wore the jacket while she was headed to visit children who were separated from their parents at the U.S.-Mexico border following Trump's "zero-tolerance" immigration policy.
Even though there were a lot of backlashes, Melania still wore the same jacket on her flight back to Washington, D.C.
As for the President, he took the opportunity to tweet about his wife's jacket and suggested that the jacket was intended to attack "Fake News Media."
Please fill in your e-mail so we can share with you our top stories!