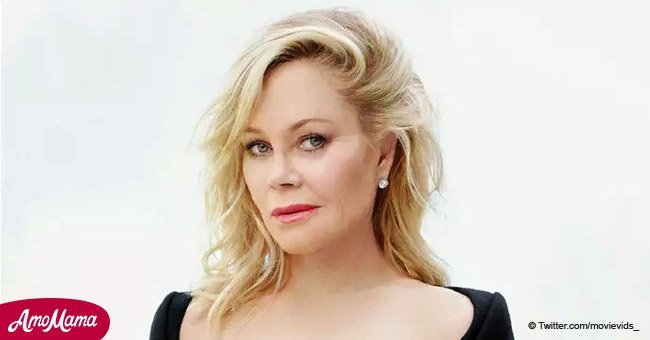 Melanie Griffith reveals how "spooky" it was to take off cancer from her nose
Melanie Griffith sat down with InStyle last Thursday and revealed some challenges she went through as age caught up with her. She opened up about her fears of coming back to the industry, especially after a recent removal of skin cancer from her face.
Griffith's experiences and words of wisdom were not lost on readers. She relayed lessons from her past love life, her working life, and looked back incredulously at the time that had passed since she filmed hits like Body Double, Now and Then, and Working girl.
The 61-year-old actress was interviewed for the InStyle magazine's September issue. She noted:
"It's a scary thing when you're an actress and you depend on your face for work."
But, as seen quite literally, Griffith would soon realize something.
"But I realize I have to put a Band-Aid on it, and it's fine. I just look like a dork."
The actress stays fit by sticking to regular training when she's in Los Angeles. She also had blood oxidization done by Dr. Augustinus Bader, a Germanian stem-cell scientist. Follow us on Twitter for more @amomama_usa.
Mother of 4, Griffith compared her age as an older actress to others who were newer on the scene. She said:
"And we're old. I don't mean it badly, and I don't mean it like, 'Oh, poor me,' or anything like that. It's just a different deal when you're an older person. It's different from being the hot stuff to being the old hot stuff."
Regardless, she felt she had done her part in helping women of all ages face certain challenges in Hollywood and elsewhere. Griffith was surprised to hear that her film, Working Girl, was released three decades before. The impact it left on other's lives always stayed with her.
"They tell me how much it meant to them and how it changed their lives. And a lot of women my age and younger say, 'I saw that movie, and it gave me encouragement to do what I wanted to do.' "
When asked if that feels good. Griffith responds smiling:
She is also pleased that she was able to decisively handle herself when it came to men in the industry attempting to pressure or force her into undesirable acts.
"If I think back, there were things that were asked, and I would just say, 'No, I'm not doing it that way.' but you had to be strong and know what you wanted.' "
Her sense of determination was clear in her words:
"I think I always had that. I was a tough chick. I wouldn't do something if I didn't want to do it."
Griffith did choose to have four marriages within her lifetime though. Her first was to Don Johnson, then Steven Bauer, and then again to Johnson. It was the second marriage that gave Griffith her first biological child, Alexander. Her remarriage to Johnson brought along daughter Dakota, the 28-year-old superstar known for her role in the Fifty Shades of Grey movie trilogy.
Griffith would later marry and divorce Antonio Banderas. In the interview, Griffith describes how she:
"had a couple of lovers but not a relationship."
Apparently, she still doesn't believe she has found the one at 60. Neither does she seem too concerned with the oftentimes difficult search.
"But especially if you're 60 and you have four kids and you're living the life you've always wanted. Then why get married? It's, like, I would love to fall in love and have a romance, a relationship, but I haven't. I keep looking."
Griffith is more focused on finding new roles. An Instagram post released just before the interview reflected her ongoing desire to get back into the limelight. In it, she shows off a stunning black dress that arouses awe from viewers, and some backlash from critics of the seemingly edited photo.
Please fill in your e-mail so we can share with you our top stories!