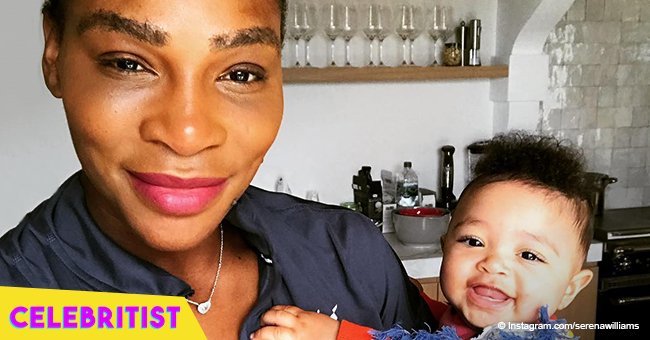 Serena Williams reveals plans of taking daughter Olympia to Africa to connect with her ancestors
She may have admitted to feeling less of a mother lately, but Serena Williams is making plans for her daughter and it starts with a trip to Africa for a lesson on being a black woman.
Serena Williams may have married a white man, but she's still a black woman whose daughter, Olympia, has her blood running through her veins. As such, the tennis star intends to teach her to be proud of her African-American roots, and one of the ways she knows how is to take her to Africa.
During her recent interview with Essence, Serena reveals she's already seeing her daughter's perfectionist side, one of the traits of being a Virgo. But she also disclosed that she has every intention of introducing her 11-month-old to the ways of the black woman and the strength that she imbibes.
"There are so many things I want to teach her about being a Black woman, and I'm proud that I have that opportunity."
Serena reveals she and her husband, Alexis Ohanian agreed to take Olympia to Africa so she develops a stronger appreciation of where she came from.
"I was just talking with my husband, Alexis. We were talking about how we want to take her to Africa, and show her where she's from and the strength that she gets from her ancestors. We want her to be able to build and thrive off that strength. And that's only the beginning of what I want to teach her."
Serena also hopes to instill in Olympia the kind of work ethic she's developed as a thriving athlete who's also a devoted mom.
"I want her to also have work ethic. I want her to know that this is what her mommy did, and that's what motivates me. I'm sure first-time moms will totally get it. When you have a baby, you just want to do everything you can for them."
Serena's latest plans come in the heels of her recent confessions about her postpartum struggles. She admitted to harboring feelings of guilt of not being a good mom and not "doing enough." However, in the midst of it all, she found the strength to accept her shortcomings and work towards overcoming them. And she used this strength to encourage other moms like her to believe in themselves and to look forward to another day.
Please fill in your e-mail so we can share with you our top stories!