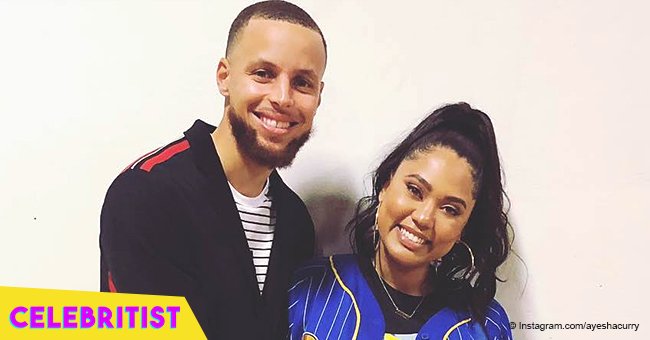 Stephen Curry's wife melts hearts with pic of baby boy in blue sweater on his 1 month birthday
The wife of Golden State Warriors star Stephen Curry, Ayesha, used her Instagram account to upload a two-photo slideshow portraying Canon, the couple's son.
Canon was born on July 2, 2018, and he has been captivating people ever since. In the first image of the post, Ayesha was holding him while the baby was looking directly at the camera with his eyes wide open and sticking his tongue out.
He was dressed in a blue onesie and, behind him, there was a white fluffy blanket with two cubes that read "1 month." One of the most striking aspects of the first picture was Canon's smirk as it attracted a lot of attention.
Apart from that, the baby's beautiful blue eyes were on full display, what made him look like if he was actually posing for the photo.
The second picture of the slideshow portrayed Canon peacefully sleeping on the previously mentioned fluffy blanket. Even sleeping, the baby seemed to be smiling and posing in his beautiful blue onesie.
In the caption, the proud mother seemed to be surprised by the fact that Canon is one month old already. Ayasha pointed out that she was just "so in love."
"Finally, @stephencurry30 has some competition in my world because this little man stole my heart and then some. Baby Canon," added Ayesha.
The famous couple's fans and followers couldn't help but comment when Ayesha uploaded those images. One of them was Instagram user @niagaras4me, who urged people to take a look at his smile and admitted Canon was "so cute."
User @danirc_omg chimed in and wondered how come the baby looked just like his father if he was only one month old. @forevertimesten finally added that the eye-color genes were super strong as every Ayesha and Stephen's child has colored eyes.
THE ANNOUNCEMENT OF THE BABY'S NAME
Only two days after Canon was born, his proud parents revealed his name. Ayesha uploaded a photo on Instagram and captioned it saying that, even though Canon W. Jack Curry joined the family earlier than expected, they were very excited and grateful.
Stephen also uploaded a photo on his Instagram account portraying Canon being covered by a blanket. He wrote in the caption: "On this journey, on this quest... protect me... I'm bless! Canon W. Jack Curry."
THE FUTURE BASKETBALL PLAYER OF THE FAMILY?
While this baby is the couple's third child – they have six-year-old Riley and three-year-old Ryan, as well – people expect a lot from Canon already as they expect him to follow on his father and grandfather's footsteps.
At the moment, Ayesha and Stephen have their hands full as they are taking care of their three children.
Things might get more difficult by October when the NBA season starts, and Stephen spends more time on the court and the road.
Please fill in your e-mail so we can share with you our top stories!