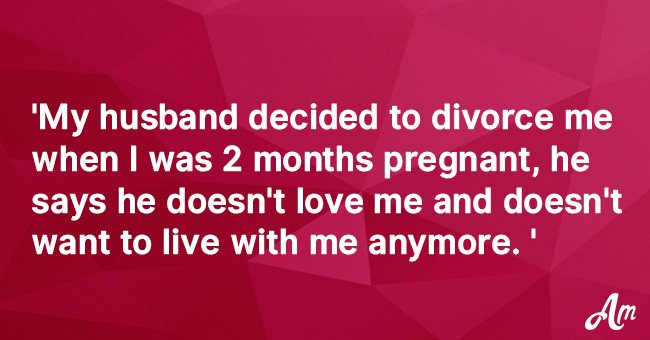 My husband decided to divorce me when I was 2 months pregnant
Dear AmoMama,
My husband was having an emotional affair and decided to divorce me when I was 2 months pregnant.
He still doesn't agree that he has or is doing anything wrong. He says he doesn't love me and doesn't want to live with me anymore. I'm still in his home but unloved and neglected by him emotionally.
He does fulfill all his financial duties but doesn't give me love, care, and attention. I'm now 4 months pregnant and dependant on him so I can't even leave him.
____________________________________________
Dear Subscriber,
Our heart goes out to you. It is not easy to face the dissolution of a marriage in your situation, but right now your focus needs to be on your wellbeing and your unborn baby's.
This man was irresponsible and unconscionable to make such a decision when he knew you were carrying his child.
It might be a good idea to consult a lawyer at this stage, so you know your rights. Confide in your doctor and ask for a referral to a therapist to help you work through the next five months.
In the meanwhile reach out to your family and friends, activate your support network. Start planning for a future for you and your baby after the birth, getting a job so you will no longer be dependant on this man to raise your child.
If you feel you cannot continue in this situation, please ask for legal advice before leaving the house. Remember it is the family home, and you and your baby are that family. You deserve better, so reach for that future.
Be strong, be happy, be yourself.
Do you agree with our advice? What do you think this subscriber could do to solve her problem?
If you need help or advice, reach out to us, and thousands of women just like you who are struggling with the difficulties of life. You are not alone, we are here for you, and we listen; so write to us anonymously using this form.
Please fill in your e-mail so we can share with you our top stories!