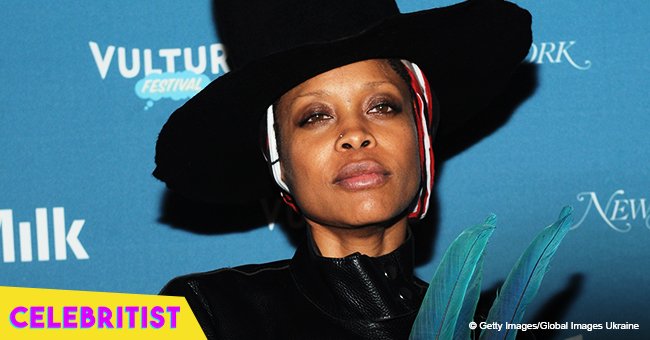 Erykah Badu's daughters look so grown-up as they pose with mom for 'Harper's Bazaar' spread
Singer and actress Erykah Badu took to Instagram to share a photo of herself and her two daughters posing for the September's issue of Harper's Bazaar magazine.
In the image, Erykah was portrayed sitting on a green and red couch while wearing a fur-like coat. The singer's eldest daughter, Puma Sabti, was sitting on the floor between her mother's legs while her sister, Mars Merkaba, was next to Erykah.
Even though the mother was wearing an extravagant outfit – a colorful coat and high white boots – both girls were wearing casual clothes. Another aspect that attracted a lot of attention was the singer's hair and hands.
Her locks were very messy, and her fingertips had red paint that looked like if she had long and sharp nails.
For the caption, Erykah thanked Carine Roitfeld, Harper's Bazaar, and the "icon" crew for including her and her daughters in the issue. "We are all tickled and are in great company. (Bruce Springsteen, Kanye [West], Lionel Richie, Christina [Aguilera], and more)."
As soon as the singer uploaded that photo, her fans and followers took to the comment section to share their thoughts. One of them was @aboutmy.dinero, who pointed out that the trio were "family goals."
HARPER'S BAZAAR ANNUAL ICON ISSUE
The magazine got together nine different music stars and photographed them next to their children. Kanye was one of them, and he was posing next to five-year-old North and 2-and-a-half-year-old Saint West.
Erykah told the magazine that she would like her children to use their gifts to serve others. "That is, to make sure that their gifts are serving something bigger than themselves. And to do what I say."
THE SINGER'S ROMANTIC LIFE
While the photo showed only two girls, Erykah has had three children so far. Her only son, Seven Sirius Benjamin, was born in 1997 when she was in a relationship with rapper André 3000.
Puma's father is West Coast rapper The D.O.C, while Mars' father is rapper Jay Electronica, who cheated on her with music manager Kate Rothschild.
Please fill in your e-mail so we can share with you our top stories!