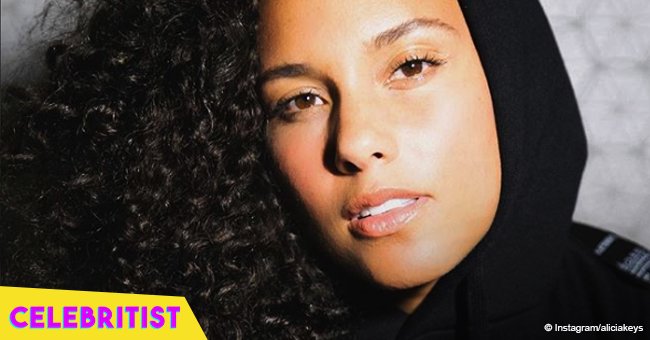 Alicia Keys shares photo of 3-year-old son learning to ride his bike
Alicia Keys is enjoying motherhood so much that she has been sharing the little accomplishments that his sons have been achieving. Recently, that achievement involved her 3-year-old son Genesis Ali learning how to ride his bike.
The proud mom shared a photo of Genesis pedaling on a bike with training wheels earlier this week, showing her fans how fast he's learning. According to Alicia, her son is a "Capricorn" and gets angry when things don't go his way, but at the end of the day, he eventually gets things right.
"Look at my little guy learning how to ride his bike!!!!! He's a Capricorn so he gets MAD when something doesn't go his way but by the end of the day he had this!!! (Check my story) #proudmommymoment"
Keys is quite open about the joys of being a mother, previously sharing in a tweet that the feeling of being a mom is indescribable.
Her message came after she welcomed her first son with Swizz Beatz, Egypt Daoud Dean.
Alicia and Swizz have been married for seven years after exchanging vows in 2010, and Alicia has become the second mom to the rapper's children from previous marriages. This happens while Swizz and Alicia continue to be close to his ex-wife, Mashonda Tifrere, whom they co-parent their children with. While the couple shares Genesis Ali, 3, and David Daoud, 7, Swizz also has three other siblings from their dad, and they all get along well.
When asked how they keep their marriage strong in the recent cover story of Cultured Magazine, they shared that the secret to a joyful marriage is communication. According to them, in their eight years together, they have not fought about anything severe nor have they raised their voices at one another. Instead, they try to communicate their problems calmly until they reach a solution.
"We've been married seven years and we don't fight, we don't raise our voices. It's all about communication. Where I'm weak, she's strong—and vice-versa. We always talk about how we don't own each other. She owns herself, I own myself, but we come together and have this amazing family. We established that early, both coming out of long relationships. We knew what had worked in our past relationships and what hadn't. We came to the table a little knowledgeable for this round."
The blended situation between Alicia, Swizz Beatz, and their children is something that occurs to thousands of families worldwide, and knowing that the peaceful arrangement between the Deans has been going on for quite a while, brings hope to families who want to experience the same. This is in hopes of having their children live normal and happy lives, just like how Genesis, Egypt, and the rest of their kids are living.
Please fill in your e-mail so we can share with you our top stories!