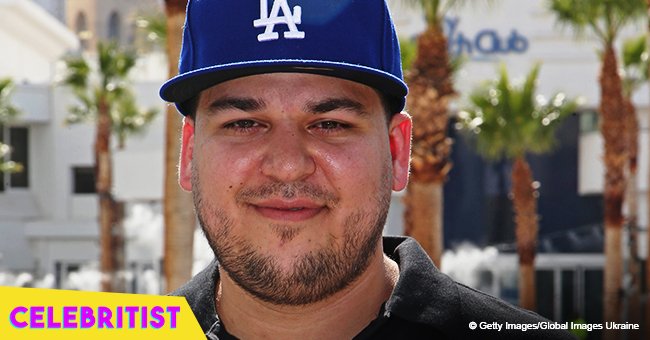 Rob Kardashian shares adorable picture of daughter Dream who looks just like him
Rob Kardashian has just delighted his fans again with another adorable photo of Dream just days after posting one.
It's been a while since we've seen Rob's daughter, Dream, mainly because her father opted to keep a low profile following his turbulent split from her mother, Blac Chynna.
But this week saw spurts of the little girl again when Rob shared a photo of her, surprising fans who missed her presence on social media.
Fans agree that Dream looks just like her father in the new snap.
And just days after that pleasant surprise, another photo of Dream has emerged, and it's making many believe she's her father's mini-me.
It's no secret Dream's parents have had a tumultuous relationship that began in January 2016. It started on a positive note with Rob aiming for a healthy lifestyle following his bout of depression.
Soon after in April, the pair announced their engagement. But things started to turn sour shortly after they announced they had a child in May.
By the summer of 2016, rumors were swirling the couple had broken up after an explosive fight.
However, they seemed to have work things out as they were spotted together again come September while Chynna was seven months pregnant.
Dream was born in November to the delight of her parents. She's Rob's first child and Chynna's first daughter. She already has a son from her previous relationship with rapper Tyga.
Rob posted videos on Snapchat just one month after Dream's was born, with proof of Chynna moving out of their home, taking Dream along with her.
Weeks later, the family was again seen together celebrating the holidays but March 2017 was a turning point for the couple who reportedly split again.
And while the break-up seemed amicable with the pair intending to co-parent Dream, things turned for the worse when Rob accused Chynna of cheating, alcoholism and drug addiction.
He shared a series of graphic photos Chynna sent him during their relationship. Chynna took legal action against her ex who retaliated with a custody case against her.
Those cases are still pending in court, and it appears the couple has ceased to bother each other. Last heard, Dream has been shuttling between her parents' home, and by the looks of Rob's latest photo of her, she seems happy.
With her curls popping out, Dream's giant smile is infectious. The photo is captionless with Rob opting to use two angel emojis instead. Fittingly so, Dream is clearly her daddy's little angel.
Fans agreed Dream is her father's twin. Many pointed that out in Rob's comments section along with praises for her. One user said:
"She's so grown... She look's like [her] daddy."
Another remarked that she is special to Rob, adding, "She clearly is [a] daddy's girl," while one said she is cute. "I have not seen this little girl in a long time!"
Rob's childhood photo posted by his mother Kris Jenner years back, shows proof of his uncanny resemblance to his child.
Just days earlier, Rob surprised fans with a photo of Dream after months of her absence on his feeds. She was wearing a checkered dress and sitting on a swing with pink ribbons on her hair.
The photo was a reminder of how much she's grown. She'll be turning two in the fall and fans were delighted to see the little girl again.
And now that they've had the pleasure of seeing her twice in a week, they hope that Rob continues to post photos of her as he used to do in the past.
Please fill in your e-mail so we can share with you our top stories!