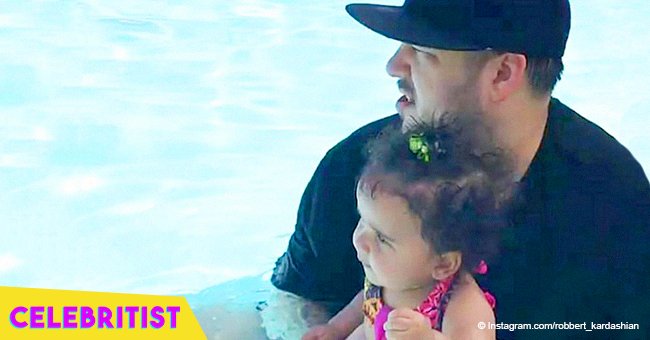 Rob Kardashian's daughter Dream is all kinds of adorable in checkered dress
Rob Kardashian has just posted a new photo of his daughter Dream and it's brought life back to his fans who've been missing her on social media. The adorable snap shows a surprisingly grown little girl with an adorable smile.
Following months of laying low, Rob Kardashian has released a new photo of his daughter Dream and she's firing up the reality star's Twitter account again.
Fans have been experiencing a lull lately with the absence of Dream from Rob's social media. The last time she graced it was in May so it came as a pleasant surprise to many when the adorable little girl became the subject of Rob's most recent post.
"I rarely open Twitter anymore, but this was a joy to see!", one fan wrote when she chanced upon Dream's new pic.
Another was surprised by how big she already was.
"Wow she has gotten big nd cute as a button."
And many, like this fan, expressed how much they missed her.
"Omg Thanks For the Picture Of My Baby Dream Rob .... I've been missing her Soooooo much"
Dream lived up to her name as she delighted Rob's followers with her cuteness wearing a checkered dress while sitting on a swing. Her hair was neatly tied in small braids with pink ribbons adorning them.
Rob simply captioned the post "My babyyyyyyy girl," an expression he probably uses on her every time.
Since splitting from Dream's mother, the sock entrepreneur has been devoting all his time to his one-year-old. And he seems to be enjoying every minute of it. In the past, he would often share snaps from their precious moments together and it seemed like Rob was happy just focusing on her.
Things are better now between Rob and his ex-fiance Chynna whose tumultuous relationship in the past became news fodder especially when their fights leading to the end of their romance turned ugly.
The ex-couple has since settled their custody issues and now share joint and legal custody of Dream. The little girl presently has two homes she shuttles between.
Meanwhile, Rob continues to be absent from his family's show 'Keeping Up With The Kardashians.' Back in 2014, he gained more than 100 pounds and was diagnosed with type 2 diabetes which prompted him to isolate himself. He even missed his sister Kim Kardashian's lavish wedding to Kanye West in Italy because of his reclusiveness.
Rob's weight which has been on a yo-yo was at its heaviest when he weighed in at 300 pounds. This worried his family especially his mother Kris Jenner who feared he would die of obesity. In 2015, the famous momager cried on an episode of 'KKWTK' as she feared for his health.
"I feel like if I don't help him do something drastic he's gonna die."
Kris has since updated fans that Rob is doing better and working on his health. She's hopeful he makes it back to their show by its 16th season. The reality series is currently airing its 15th.
Please fill in your e-mail so we can share with you our top stories!