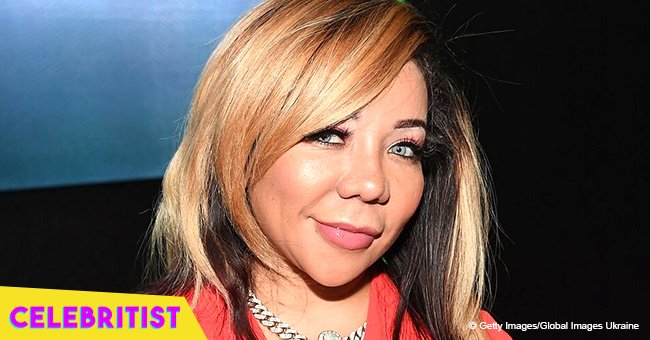 Tiny Harris' mom stops hearts with picture of her 3 grandkids modeling Rich Boys clothes
Dianne Cottle is a proud mother and grandmother as she shared a photo of her stylish grandsons on social media. The ferocious mom is not one to mess up with, and Tiny Harris' husband, T.I, is aware of that.
Tiny Harris' mother, Dianne Cottle Pope, has always remained by her daughter's side through her ups and downs. Known for her few appearances on the reality show "The Family Hustle," the 72-year-old woman is very fond of her grandkids, and her Instagram is the proof of that.
While she seems to be especially besotted with Tiny's youngest daughter, Heiress, Cottle also has space for the boys of the family on her social media accounts.
She recently shared a photo of Tiny and T.I's two youngest boys: Major, 10 and King, 13. In the pic was also pictured the boys' cousin, MiKai Cottle, son of Tiny's brother, Albert "Redd" Cottle.
The three of them were posing with stylish clothes from the brand "Rich Boys" sitting on the hood of a luxurious car with palm trees and green laws in the background.
Major stayed true to his "smart-pants" reputation wearing rimmed glasses, a buttoned-up blue shirt and faded fitted jeans. King, who seems to be more interested in pursuing a career as a rapper, rocked a more "hip-hop" style with a white t-shirt, jeans with patches sewn on it, black and white sneakers and some accessories.
MiKai wore black pants with gold zips on his knees, a black t-shirt, white baseball cap, a long gold chain, and a gold ring that read "RICH."
"3 of my grandchildren modeling for Rich Boys clothes," explained Dianne in her caption, earning a heated reaction from fans who couldn't contain their praises for the young boys.
One user wrote "They're handsome and wearing them clothes!!... But they got it earnest from their parents!!" and another added "Congratulations ms. @diannecottlepope I know you are very proud of your handsome grandsons."
The Cottle family is ride or die, and Mrs. Cottle reminded her son in law T.I of that in the last season of VH1's "The Family Hustle."
Just a few months after Tiny Harris filed for divorce at the end of 2016, the show made its return to the screens to show the changes that had taken place on the Harris' family. Tiny moved out of her and T.I's home, and they were trying to navigate the experience of co-parenting without being together as a couple.
However, at some point, Tiny had too much of the situation and ended up going to her mom's house seeking comfort. Dianne wasn't happy about seeing her daughter in distress, so she decided to send T.I a few text messages that made the rapper visit her.
At her home, Dianne made sure to put T.I on his place, as she told him:
"It is really none of my business. But it is some of my business when my daughter is hurt. I feel like she is hurt. If you are going to keep on doing your dirt, as you are doing — that is what it is, and you know it, because you are married, and you got married before God."
T.I went on to say that Tiny also had "done dirt," and explained to his mother in law that Harris is his best friend above all and even if she decided to go through with the divorce, that wasn't going to change.
Fortunately for the rapper, Tiny decided to put the divorce on hold, and they're still trying to fix their marriage for the sake of their children.
A few weeks ago, T.I gifted his wife a brand new Mercedes Benz for her birthday, and they seemed to be perfectly fine with each other despite all the rumors surrounding their relationship these days.
Please fill in your e-mail so we can share with you our top stories!