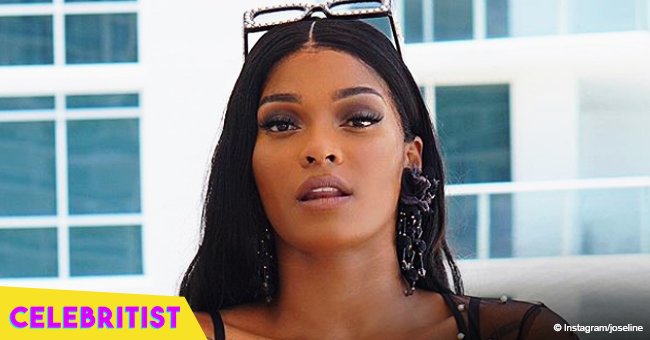 Joseline turns up the heat in long, snake-print dress in recent video
Following the surprising news of her ex, Stevie J's marriage to Faith Evans, Joseline Hernandez is slammed for trying to tempt him back. A recent video featuring her modeling a sexy snake-printed dress is leading fans to believe she's out to draw attention from him.
Joseline Hernandez just posted a video flaunting her sexy dress and fans think she's doing it to tempt her ex, Stevie J.
The 'Puerto Rica Princess' took a moment inside an elevator to take a video of her outfit that's certainly steaming up her enclosed ride. She was wearing a snake-printed haltered dress with a thigh-high slit on both sides that she made sure would be seen during her clip. Her legs took center stage as she purposely opened the slit to reveal them. Her cleavage was also on display between the deep Vof her dress's neckline.
Joseline parted her hair in the middle and allowed it to flow freely beyond her shoulders as she swayed and turned while documenting her look. Many who viewed her post she captioned "Last night sneaking around" were most likely enchanted by her clip.
The former 'Love and Hip Hop: Atltanta' star had several versions of the selfie including three she posted earlier where she's inside her bathroom. Dressed in the same temptress frock, she admired herself through the mirror while holding on to her cellphone as it captured every moment of it.
Meanwhile, fans were quick to judge the star for using the clips to draw attention from her ex-boyfriend, Stevie J, who's also the father of her one-year-old daughter, Bonnie Bella. Stevie recently married Faith Evans to the surprise of many. This is his first marriage despite a string of relationships including the toxic one he had with Joseline for two years. The pair split n 2016.
Fans think Joseline is still bitter over her break-up from Stevie specially after she lashed at him following the announcement of his marriage in July. She posted screenshots of earlier texts of Stevie to her prior to his wedding asking her to marry him, proving he was unfaithful to his wife. She also asked him to pay child support and referred to him as a bum in another post.
Now fans think she's posing up a storm to catch his attention.
"Those stupid poses are horrible homegirl. Hang it up, Steebie moved on,"
"She is classless and she act like she not upset about Stevie but trust me she felt that pain and yes he moved on to a classier female."
Earlier this month, Joseline revealed her true feelings about Stevie's marriage to Faith when she reacted to an old photo posted by The Shade Room where she and the newlyweds were hanging out together. On the comments section, she wrote,
"You know they say one mans garbage is another's [sic] man treasure. But we know is [sic] still garbage."
It's safe to say, things aren't well between Joseline and her baby daddy for now. Hopefully in time, for the sake of their daughter, their relationship will be better.
Please fill in your e-mail so we can share with you our top stories!