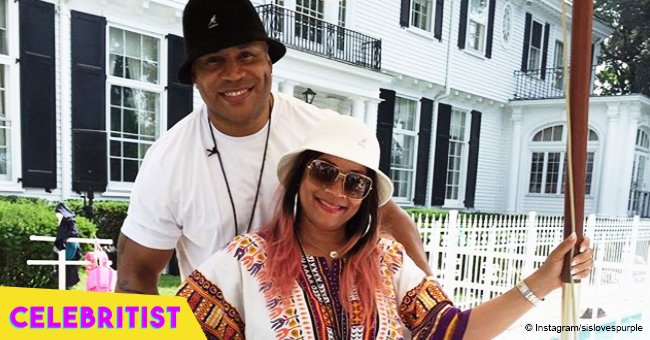 LL Cool J's wife stuns in sweet pants & helmet, posing on a quad bike in new pic
The American rapper, actor, author, and entrepreneur and his wife have been married for an impressive 23 years already, and seem to be going just as strong as the day they said their "I do's."
LL Cool J met his wife, Simone Smith, when they were just a couple of teenagers. To date, they have been together for over 30 years, and just celebrated their 23rd wedding anniversary on August 8.
During their relationship, they have also welcomed four children: 28-year-old Najee Laurent Todd Eugene, 27-year-old Italia Anita Maria, 22-year-old Samaria Leah Wisdom, and 18-year-old Nina Simone.
The couple also faced serious challenges together, most notably in the form of Simone's stage three bone cancer diagnosis in 2004. The entire family dropped evverything to hold her hand through the ordeal.
Fortunately, she was able to fight the disease off to celebrate a couple more anniversaries with her husband.
On this latest one, she shared a photo to her Instagram account of them all dressed the part of a rapper. Wearing matching "graffitied" pants and shirts, they were posing together, with LL Cool J down on his haunches tipping his hat.
Naturally, they accessorized with chunky gold chains around their necks and Doc Martens. Simone also added large gold hooped earrings.
The couple have been away celebrating their milestone together in Los Cabos, Mexico, and Simone has shared a number of snaps from their time down south.
Another image showed her posing on a large red ATV, wearing a silver helmet and a scarf over the lower half of her face.
She wore a black tank top, grey sweatpants, and a pair of black sneakers. She appeared to be soaking up the sunshine on her bare arms.
"When in Cabo," she captioned the shot, with a number of vehicle emojis.
Fans took to the comments section with all sorts of advice, including some warning her to be careful. Others just suggested she have fun on the adventure.
Please fill in your e-mail so we can share with you our top stories!