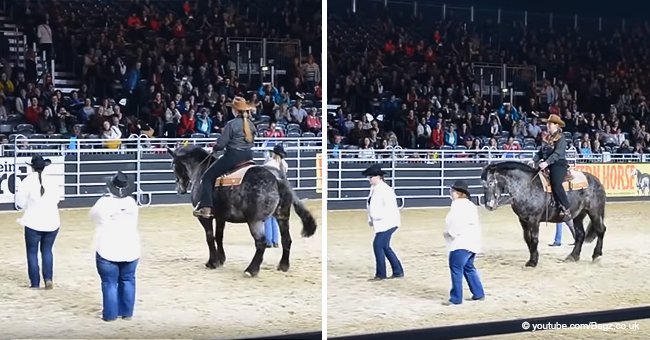 Horse hears her favorite song and easily proves that she is a perfect dancer
As soon as the music starts, this four-legged beauty and her fellow dancers surprised everyone present with their perfect rendition of a line dance.
This beautiful gray mare delighted the audience by dancing to Billy Ray Cyrus's country music classic "Achy Breaky Heart"
She did it so well that the singer posted her video on his Facebook page in April 2015. Read more on our Twitter account @amomama_usa.
In the footage, caught during a break in a rodeo contest, the animal takes the central position among the members of the line dance group, all dressed in cowboy attire.
The mare begins by moving to the right following the signal, moving and spinning in perfect synchrony with the human dancers, always to the rhythm of the music.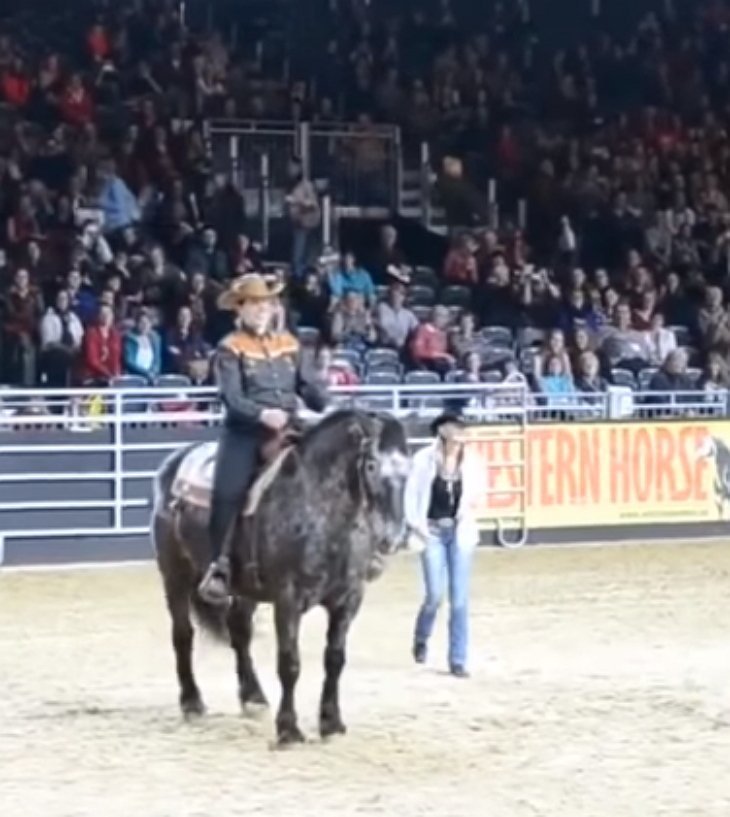 Source: Youtube / Bagz.co.uk
The audience is delighted to see their delicate movements, and they do not stop cheering and clapping along to the beat of the song.
This dance is a proof of patience, disciplined training, and rapport between the mare and her rider. They were synchronized perfectly to the music, even when she moves her tail.
We can tell they spent many hours learning and training the steps of the dance, but they seem to be having so much fun that one might think they are improvising.
Toward the end of the performance, the dancing group assumes the same formation that they had started with. As the music dies, the crowd erupts into cheers and applause of pure adoration.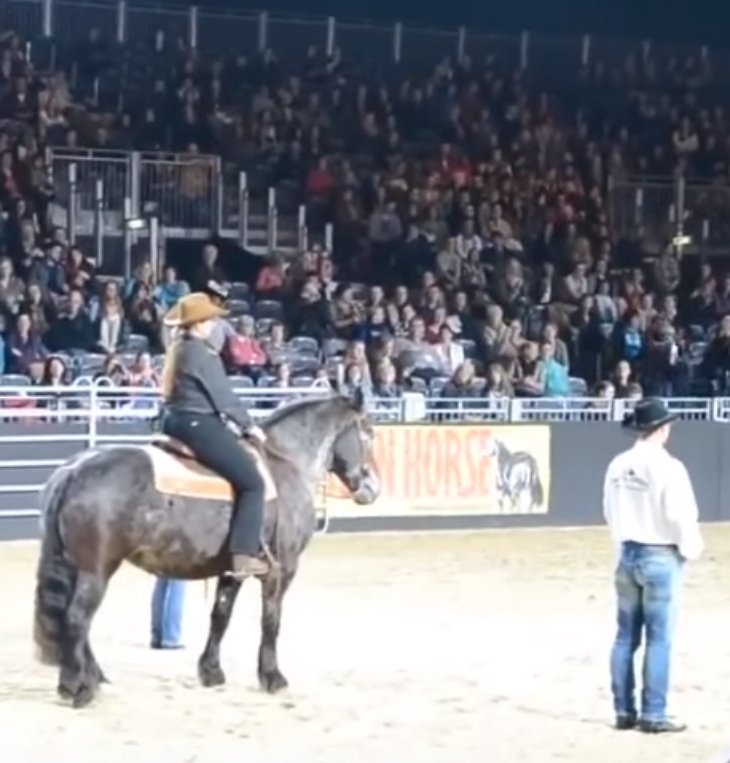 Source: Youtube / Bagz.co.uk
Cyrus was not only proud of these dancers using his signature song as background music; he seemed to be really impressed by this mare's dancing skills.
He shared the video on his Facebook account with the caption: "Best thing ever!" and the post went on to gather 112,000 reactions and 10,000 comments.
It was shared more than 500,000 times. His fans were anything but indifferent about the performance, and Jesus Vizcarra wrote:
"This is a small sample that our animals can do things very well, it's just a matter of treating them with love."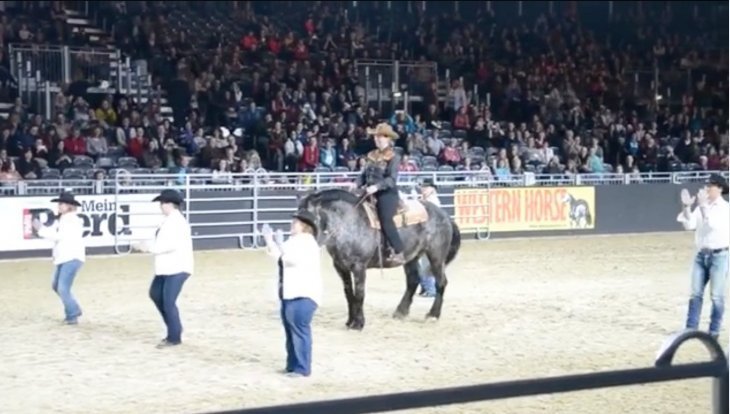 Source: Youtube / Bagz.co.uk
Another Facebook user, Marianna Volker, added:
"So uplifting feel-good video to celebrate life right now, you know! Thanks so very much for this video to enjoy it from the heart!"
There were others, though, that expressed their concerns about what the animal might have gone through to perfect this routine.
Diana Pejham, for instance, wrote: "Honestly, it's cute, but think about all the hours the poor horse had to practice steps and not get to be a real horse. Not cool."
"Achy Breaky Heart" was the breaking point on Cyrus's career, when he released the song in 1992, reaching number one and starting a line dance craze in the US.
The country star has always been attached to his hit song, and he probably had seen many people dancing to his song. But that mare surely gave Cyrus the surprise of his life.
Please fill in your e-mail so we can share with you our top stories!