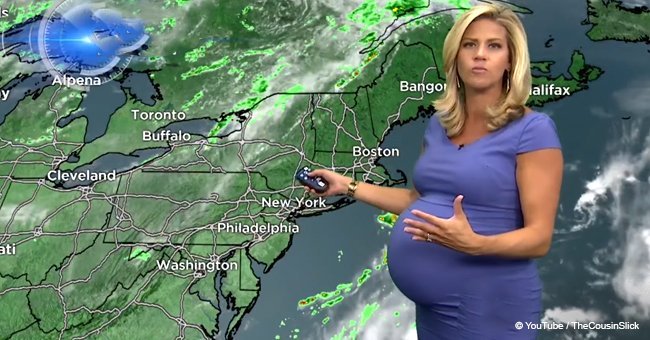 Pregnant meteorologist goes viral after slamming 'haters' who criticize her bod
CBS 3 meteorologist Katie Fehlinger had some choice words for the critics who attacked her on social media after she appeared on television with the baby bump in her 35th week of pregnancy.
According to a report from Made For Mums, Fehlinger has continued to report the weather on the network throughout her pregnancy with twins and was trolled for her pregnant appearance. The source reported that she was branded a 'sausage in casing'
Rather than break down under the criticism, Fehlinger decided to speak out and raise her voice against the hateful comments. She drafted an open letter on her Facebook page and addressed it to her "haters."
In the letter, she wrote that she usually don't reply to the haters shaming her body or change the way she looks because of someone else's opinions.
Follow us on Twitter to learn more.
However, in this particular case, she felt she needed to address a larger issue than just what a few people were saying about her body.
'And while rude comments like these will never make me feel the need to change anything about myself, I find a bigger underlying issue here. These particular nasty-grams were directed at a pregnant woman,' she wrote.
So, Fehlinger felt the need to dedicate a post for every mother or 'pregnant moms-to-be' or mothers whose children have already grown up.
Her message to all these mothers or future mothers was simple: 'You are beautiful.' Fehlinger applauded the mothers for enduring the most uncomfortable and unglamorous symptoms of pregnancy to bring precious children into the world.
She further added that she did not care how she looked as long as she was staying healthy and increasing the likelihood of delivering 2 healthy twins into the world.
Fehlinger also invited all the mothers to own their 'less than glamorous' pregnancy symptoms as a badge of motherhood.
Finally, her conclusive message for her haters was to "say nothing at all" if they didn't have anything nice to say.
People are often quick to be critical of a woman with pregnancy without understanding their actual situation. Back in April, ABC meteorologist Ginger Zee was also similarly criticized by a social media user.
In the incident, Twitter user CeCe Winans II commented about the extended maternity leave that Zee was enjoying at the ABC network.
Zee later spoke out against the attack on her and calmly reminded the proper rules regarding maternity leave to the hater.
Please fill in your e-mail so we can share with you our top stories!