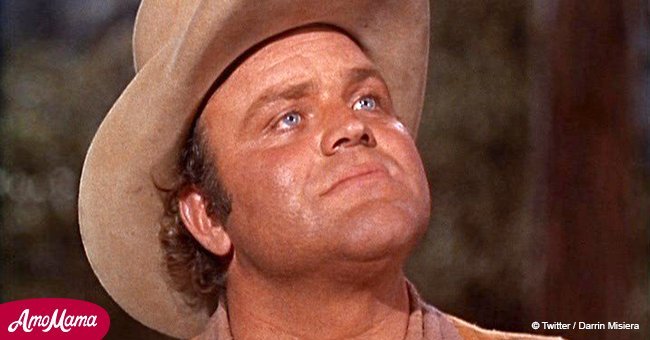 What happened to Erick 'Hoss' Cartwright from 'Bonanza'?

In 1959, Western television series dominated the three networks with "Bonanza" being highly successful. But whatever happened to good ol' Hoss?
1959 saw as many as 29 weekly Western television series dominating the three networks. From shows like "Gunsmoke" and "The Rifleman" to "Wanted Dead or Alive," "Have Gun Will Travel," and "Laramie."
One of the most popular shows, "Bonanza," also began in 1959. The show took its audience on a trip to the Ponderosa every Sunday. Hoss Cartwright, played by Dan Blocker, became a household name and went on to star in the show until 1972, reports KXRB.com.
Read more on our Twitter account @amomama_usa.
The show lasted 14 seasons and 430 episodes, with Ben and his boys regaling the viewers with tales of love, guns, problems, and solutions. For millions of young girls, Little Joe was the favorite character, while for millions of little boys, Hoss became their idol.
Dan Blocker was a Korean War veteran. He also received a Purple Heart for injuries in combat. Born in 1928 in northeast Texas, he began his acting career in 1957, with an appearance in "The Three Stooges."
Upon getting the role in "Bonanza" in 1959, he etched a place in the audience's hearts, working until 1972. Unfortunately, he passed away on May 13, 1972, following gallbladder surgery.
Just before the filming was to start for season 13 of the show, the crew received the unexpected news of his death. According to Mental Floss, Blocker was loved by the cast and crew and was sorely missed.
"Dan Blocker was easy to know – the kind of guy you could go and have a beer with."
Mitch Vogel, Mental Floss, September 19, 2011
The show took an unusual step by referencing the death of his major character on the show that fall. Hoss did not 'move away', but died.
The episode titled "Forever" was written by Michael Landon, who starred as Hoss's brother, and was to include Blocker. However, some changes had to be made with Landon taking up the starring role.
Though the episode did not directly mention the actual circumstances of Hoss' death, there were many obvious references
After his death, Lorne Green, who played Ben Cartwright, Hoss' father, told his wife that he did not see how the show could continue:
"That's it. It's finished."
The show ended in the spring of 1973.
Please fill in your e-mail so we can share with you our top stories!