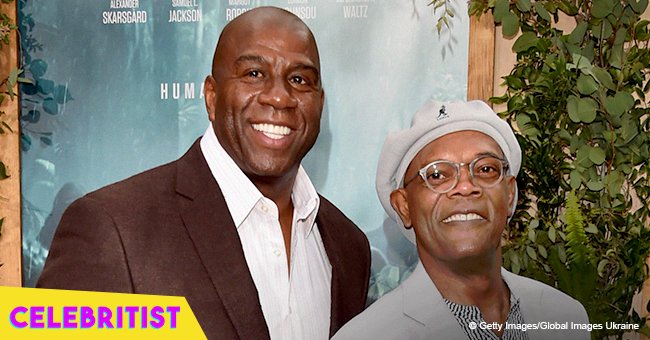 Magic Johnson rocks afro wig and flower-shaped sunglasses on his 59th birthday
Magic Johnson turned 59-years-old in style as he rocked an afro wig and flower-shaped sunglasses for his retro-themed birthday party.
Just like he did for two straight years in a row, the legendary NBA star gathered his closest family and friends on a luxury yacht that explored the Amalfi coast. According to The Daily Mail UK, spending a week on the superyacht costs a whopping $700,000. Despite this being the case, the Johnsons have been on-board the yacht since July 31.
The former Los Angeles Lakers player posted a number of photos on Instagram showing off how he celebrated his birthday, one including the staff and crew on the ship. Not only did they decorate its common areas with blue balloons, but they also presented him with a beautiful birthday cake that they eventually made him blow.
Making sure to express his heartfelt appreciation and gratitude to those who made an effort to make him happy on his birthday, he said:
"'Thank you to my amazing wife @thecookiej, my great friends Sam & LaTanya Jackson, John & Vicki Palmer, and the Siren crew for making my birthday a magical day. God is good!"
Of course, his doting wife Cookie also made sure to greet the "love of her life" a happy birthday, saying "no one else can do what you do".
"Happy birthday Earvin @magicjohnson, you are the love of my life and my soulmate. I am so proud of you and what you have accomplished this year, no one else can do what you do, you are truly blessed by God and and He loves you so much because you always answer His calling, this is why I love you even more, enjoy your day love"
Previously, it was reported that the Johnsons kicked off their luxurious Italian getaway with a flight to Italy aboard their personal private jet. The lovely couple made sure to update their fans with a photo of them prior to boarding their plane, and of course, their sharing did not stop there.
Both Magic and Cookie have been showcasing the luxurious yacht that they've rented out for such a huge amount of money per week. The yacht has the most extraordinary features, including a movie theater, multiple dining rooms, gyms with treadmills and free weights, and a whole lot more. They shared this memorable experience with some of their closest friends, including Samuel Jackson and his wife among many others.
Clearly enjoying himself and the company he was with, Earvin "Magic" Johnson beamed with joy in the photos, even sporting some flower-shaped shades and an afro while they sang for him during dinner.
Happy Birthday to the legend himself!
Please fill in your e-mail so we can share with you our top stories!