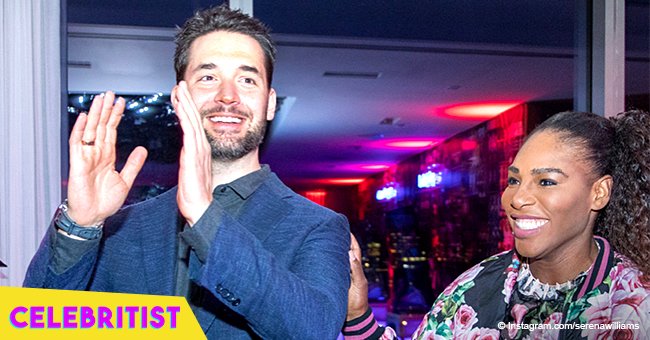 Serena Williams' daughter stuns in mirrored sunglasses, showing full head of hair in new pic
The tennis star welcomed her daughter almost a year ago, and has formed an incredibly close bond with the adorable tot since her birth, sharing plenty of updates with her fans on social media.
Serena Williams and her husband Alexis Ohanian welcomed their daughter, Alexis Olympia Ohanian Jr. into their lives in September 2017. Although the athlete has returned to center court, she spends as much time with her precious daughter as possible.
Being a new mom is a difficult job, and Williams has openly shared her battle with post-natal depression and her struggle with juggling motherhood and her tennis career.
The trauma started from her daughter's birth, when she had to undergo an emergency C-section. Then she nearly died because of a pulmonary embolism, and was told she couldn't leave her bed for six weeks.
"Some days, I cry," she said. "I'm really sad. I've had meltdowns. It's been a really tough 11 months. Sometimes she just wants Mommy, she doesn't want anyone else. I still have to learn a balance of being there for her and being there for me. I'm working on it. I never understood women before, when they put themselves in second or third place. And it's so easy to do."
Throughout this, she and her daughter have only built a stronger bond, with Williams rarely leaving her daughter's side.
In mid-July, she shared in a Twitter post that although she has returned to tennis since her daughter's birth, she had up to that time not spent a single day away from Olympia.
"319 days since I gave birth to this amazing baby @OlympiaOhanian I've spent 319 of those days with her. I'm so fortunate."
A more recent photo of the tot showed her dressed up in a pair of reflective pink and yellow sunglasses, looking cool as a cucumber in her stroller with a full head of curly hair.
Williams didn't even need to caption the image, using just a sunglasses emoji.
Olympia also had on a plain white t-shirt and a pair of pink pants. She appeared to be holding on the glasses, almost as though she were snidely peering through them at someone.
Thousands liked the adorable image and took to the comments section to gush over how cute she is.
Please fill in your e-mail so we can share with you our top stories!