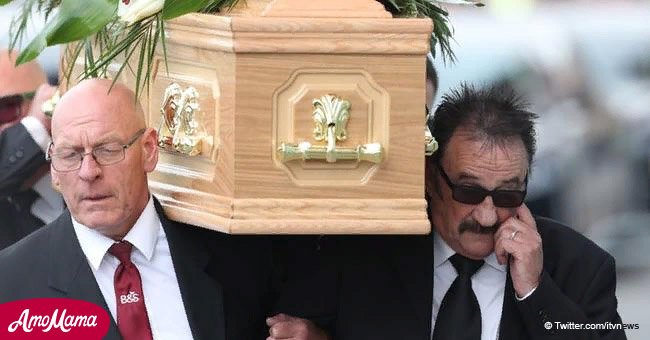 Paul Chuckle burst into tears while carrying the coffin of late brother Barry at New York Stadium

The English comedian Barry Chuckle, born Barry Elliott, passed away at 73 on August 5, leaving his brother and performance partner Paul heartbroken.
As a crowd stood outside Rotherham's New York Stadium to say their last good-byes to the oldest of the comedy act duo the Chuckle Brothers, 70-year-old surviving brother helped carrying Barry's coffin overcome by emotion.
Paul wore a black suit and tie as he entered the stadium alongside three other men with the coffin on their shoulders to attend a private funeral officiated in the sports premises. Read more on our Twitter account @amomama_usa
Barry and Paul had the honor to be named honorary life presidents of the Rotherham United football club, the resident team at the New York Stadium, so it was a very meaningful place to pay homage to Barry's memory.
While only close family members and some fellow entertainers were invited into the service, the public was welcome to gather outside to mourn one of Rotherham's favorite celebrities.
"It's the worst feeling ever but I have to carry on as I know Barry would want me to having always been so supportive of each other in both work and our personal lives."
-Paul Chuckle, Twitter, August 9, 2018.
Just before crossing the player's entrance of the stadium, Paul broke into tears and was seen wiping them away even though he was covering his eyes with dark shades.
As the brother's manager Phil Dale shared in his Twitter account, Paul said: "I've lost my theatrical partner, brother and very best friend!"
After the news of Barry's death due to cancer broke off, people took to social media to send condolences to Paul, who was so devastated over his loss that his wife had to thank the fans in his name.
Only a few days later Paul returned to the social network to address the subject by himself.
The Chuckle brothers are best known for their BBC show "ChuckleVision," which was aired for 22 years, from 1987 to 2009. They also performed together on stage uninterruptedly for 48 years.
Please fill in your e-mail so we can share with you our top stories!