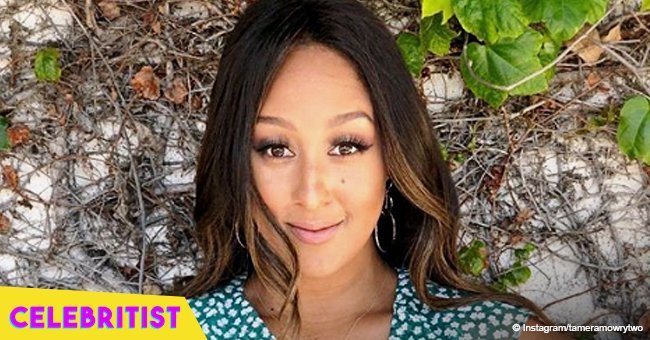 Tamera Mowry steals hearts with photo of son in leather jacket on his first day at school
Tamera Mowry shared an adorable photo of her son wearing a black blazer for his first day of school three days ago.
The 5-year-old, who wore a cheeky smile, sent Mowry's followers into a frenzy. Mowry herself found it difficult to let her son go off on his own upon reaching the landmark occasion.
She captioned the picture:
"Welp! He did it. And with flying colors. The excitement in his eyes made my heart melt. What a lovely and caring soul this one has. He couldn't wait to meet all his new friends. He simply gave mommy and daddy a kiss and said: "Goodbye Mom and Dad. Love you." Me on the other hand, I had to hold back the tears."
Tamera, who is a twin sister to Tia Mowry, rose to fame in 1994 on the sitcom "Sister, Sister."
She currently co-hosts the daytime talk show "The Real," which premiered in 2013. On it, the star discusses modern issues women face as she sits alongside her four colleagues.
Mowry is happily married to Adam Housley, a Fox News Correspondent. The two also have a daughter named Ariah, born on July 1, 2015.
The marriage, which took place in 2011, often times arouses negative reactions from the African-American community who are perturbed by the interracial relationship
But the pair seemed unbothered just earlier this month when Mowry captured a heartwarming shot of Adam playing with Ariah during a visit to Spain. Users debated back and forth between who the young girl most closely resembled.
In April, Mowry sat down with US Weekly and volunteered to reveal whether or not she would be having more children with her husband.
"Usually, this is the time when you think about having another child, but I'm done."
When prompted by the interviewer, Mowry was quick to reassure her:
"Done, done, done, done, done, done. I love it."
While the public is busy concerned about their personal life, the highly successful couple appears emotionally and financially contented.
Heightline estimated that Mowry's net worth is $10 million, while her husband's is around $3 million.
Please fill in your e-mail so we can share with you our top stories!