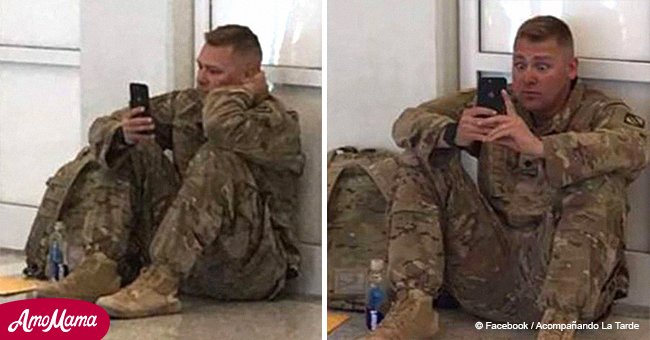 Lone soldier sits at the airport after his flight is delayed to watch his baby's birth
Specialist Brooks Lindsey had planned to leave the army two weeks before his wife Haley gave birth. He wanted to be there to help her prepare for their daughter's birth.
However, complications with Haley meant she had to give birth two weeks before the allocated time. Her husband rushed to the airport to try and make it on time but his flight got delayed.
Specialist Brooks Lindsey tried to rush home to Brandon, Mississippi, from pre-mobilization training in Fort Bliss, Texas to be with his wife who was giving birth. He had prepared for deployment to Kuwait with the Army National Guard before he found out that Haley was giving birth two weeks ahead of time.
Soldiers typically get sent home for births only if the mother or baby is in an emergency situation. However, his flight got delayed flight at Dallas-Fort Worth airport.
For more on this story go to our Twitter account @amomama_usa. His wife was having an emergency induction back home because she faced high blood pressure and preeclampsia.
The previous day a routine doctor's visit revealed that the baby was under stress.
"I was 20 minutes away from the hospital when they told me 'Be here in an hour, we're going to get baby going,'" said Haley.
She then called the Red Cross to send her husband an emergency message. As Lindsey was delayed at the airport his mother called him and shared that Haley was starting to push.
"At first they said no videos, but then when they found out what was going on and she was FaceTiming me, they let me watch the whole thing," the soldier revealed.
His flight being delayed for 2 hours actually allowed him to see the birth of his daughter. If he had been on board already, he would've missed it.
"Honestly it was a blessing that he was delayed because he would've been in the air and he wouldn't have known anything at all," said Haley. "I don't think that has anything on seeing it," she added.
Tracy Dover was among bystanders at the airport who watched Lindsey witness the birth of his baby girl. She took a photo of him sitting on the floor staring at his phone's screen and posted it on her Facebook page.
"This Army soldier was on my delayed flight home yesterday to MS. He had to watch the birth of his daughter on FaceTime," Dover wrote on her post.
She shared that, "He was crying and our hearts were breaking. We all gave him space. When we heard the baby cry, we all rejoiced for him."
Four days after meeting baby Millie, the soldier was on his way back to Fort Bliss.
Please fill in your e-mail so we can share with you our top stories!