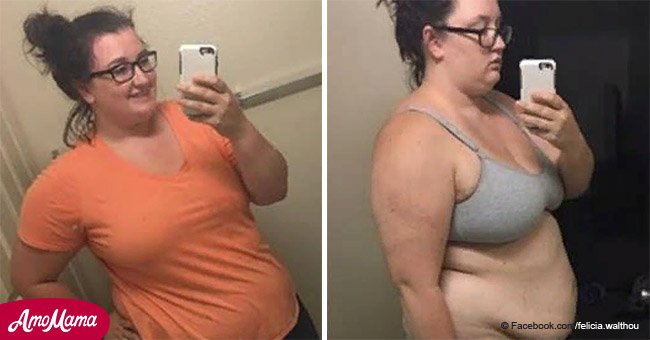 Woman who was sexually assaulted in high school shares her stunning weight loss journey
Felicia Keathley who lives in California was sexually assaulted in high school. Keeping the secret caused her to 'comfort eat' and she gained a lot of weight.
While opening up to her therapist, she realized that she needed to deal with the weight gain. She started exercising and eating healthy and within 14 months her transformation has been amazing.
In May last year, Felicia Keathley, 22, set herself a weight loss goal. At the time, she weighed 21 stone and five pounds.
Fourteen months after working hard she now weighs 12 stone. She confessed that she is "happier" than ever before.
For more on this story go to our Twitter account @amomama_usa. She revealed that her therapist was the one who had encouraged her.
"I was tired of being overweight and tired of being miserable. In high school, I had been sexually assaulted and I kept it inside for years as I ate and ate and let the weight pile on," she said.
"My therapist and I came to the conclusion that my assault and keeping it a secret had caused me to use food as my comfort. I was pushing it down deeper and deeper, masking it with the comfort of food. I was done having that part of my life control me," Keathley explained further.
She admitted, however, that her journey wasn't an easy one because of the bad relationship she'd built around food. Overcoming the weight gain was a big thing for her but she'd also changed something mentally with regard to her rape.
Keathley lost the weight by joining weight watchers and was surprised by how much she enjoyed her new diet. In the past, she used to eat junk food five or six times a day but she's since reduced it to once a month.
She also used to drink five sodas in a day but managed to substitute them with plenty of water. Another big change she made was joining the gym which she learned to enjoy.
Part of the reason she went on the weight loss journey was so she could be healthy for her son. She advised people who looked up to her to "Take care of your body and believe in yourself. It IS possible."
Keathley also added that one should "NEVER GIVE UP. There are times where you will feel like you blew it and I promise you to haven't. Getting up and getting back on track is the most important thing you can do! Don't deprive yourself from things you love!"
Please fill in your e-mail so we can share with you our top stories!