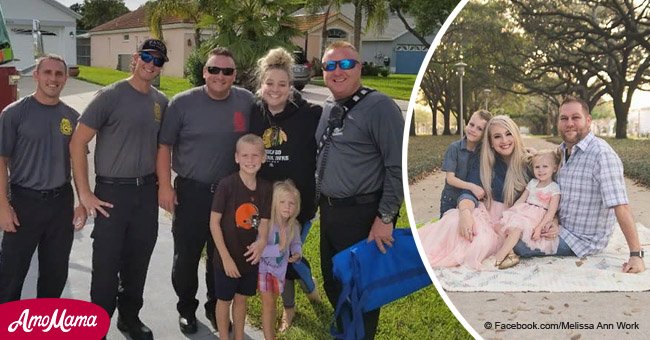 Firefighters save man's life after a heart attack and later come back to save his lawn

Pasco County Fire Rescue, who treated a man suffering from a heart attack, returned to his house to help with the grass.
Back in July, Gene Work, 40, suffered a heart attack while he was working on resodding his yard before the homeowners association issued a hefty fine, according to a Facebook Post by his wife.
Melissa Ann Work, 30, said that Gene had pleaded with her as he "was having his heart attack" to lay the fresh sod because he was worried it would "go to waste and die."
"I calmed him and kept saying 'Jesus will help us. It's OK. Jesus will figure this out babe,'" she said in her Facebook post.
Follow us on our Twitter account @amomama_usa to learn more.
Melissa, who needs a bone marrow transplant, told her husband that they would be all right and the Pasco County Fire Rescue brought took them to the hospital.
Gene's brother, Mark Rouco, who witnessed the heart attack, stayed behind. Mark was determined to stay as long as needed to replant the sod.
Melissa explained:
"As he was laying it, he heard huge trucks driving back down the road. He turned around and saw the fire truck and ambulance had come back. He was confused and thought they were coming to check on him."
She added that seven firefighters and EMTs "jumped out, put on gloves," and said they returned lay the sod. "They knew he wouldn't be able to do any work for weeks, so they came back."
Melissa praised the firefighters who went beyond the call of duty to finish their lawn work.
"They came back!!! They saved his life, dropped him off and then cared enough to save our GRASS!!" she said.
According to Melissa, the firefighters didn't know their HOA was going to fine them. They also didn't know that she's about to fight for her own life during her bone marrow transplant later this month.
They just want to help someone in need even if it wasn't in their job description. Melissa concluded:
"We have no words. Just sobbing."
Please fill in your e-mail so we can share with you our top stories!