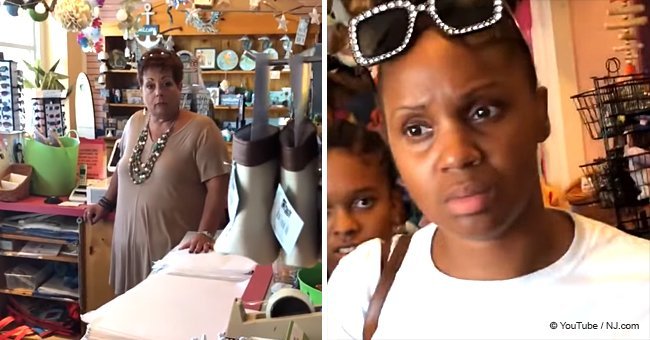 Woman fired after kicking black customers out of aquarium gift store
A store employee has been suspended after she barred a group of black girls from shopping at a Jersey Shore aquarium gift shop.
During a field trip, the seven black girls from a summer camp program went to the Jenkinson's Aquarium boardwalk gift shop at Point Pleasant Beach in New Jersey. However, an employee banned them from entering the shop, according to a recent post by the camp leader Attiya Barrett.
Barrett wrote: "So. My girls went inside the gift shop (Jenkinson's Aquarium), and we were racially profiled and discriminated against!"
Follow us on our Twitter account @amomama_usa to learn more and please scroll down to watch the video.
"The racist lady behind the counter told (seven) of my girls 'you're not welcome here without a chaperone,'" she said in the post.
"They left and got a chaperone and went back in. She then said 'Didn't I say (you are not welcome here! Get out!)'"
The young girls cried and asked the reason why they couldn't buy something from the shop, Barrett continued.
Barrett's Facebook post was accompanied by footage of the worker being questioned before the campers.
In the video, Barrett can be heard saying: "She doesn't want the child to shop in her store because she said they have to be with a chaperone, they go get the chaperone, and then she excuses all of our girls to leave the store because she doesn't want them there."
Then the gift shop employee can be seen laughing. When Barrett asks the worker her reasoning, she replies: "Because they didn't have a chaperone."
Barrett then asks her again what was her reasoning for not letting the girls shop after they did get a chaperone.
The woman said on camera: "I didn't think she was a chaperone. I said, 'You're not welcome here.'"
Since the video was posted, it has been viewed more than 3.3 million times.
In a statement, a spokesperson from Jenkinson's Aquarium told NBC New York that the worker who asked the black girls to leave the shop was suspended.
"We strive to provide all of our customers with an enjoyable experience, and we clearly missed the mark this time," the spokesperson explained. "We sincerely apologize to the girls from the camp group for the way they felt upon leaving."
Please fill in your e-mail so we can share with you our top stories!