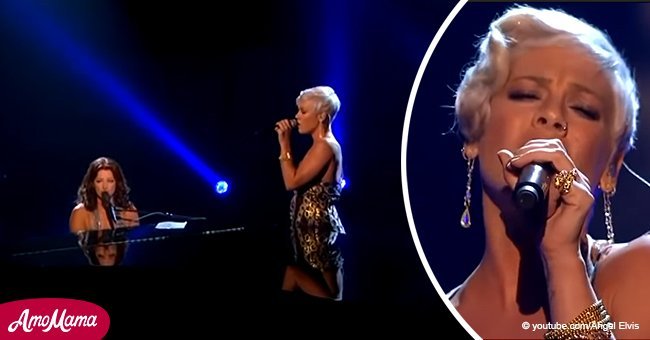 Sarah MacLachlan and Pink wow audience with stunning performance of 'Angel'

Sarah McLachlan's duet of the hit song "Angel" with Pink left the audience in awe.
In 2010, McLachlan, 50, and Pink, 38, joined forces to perform McLachlan's famous song, "Angel," and their incredible duet is likely to give you goosebumps.
The two singer's voices complement one another so excellently in the song. As the tune unfolds, you get to hear more and more differences in their voices.
Follow us on our Twitter account @amomama_usa to learn more and please scroll down to watch the video.
McLachlan sang the syrupy smooth notes. Pink, on the other hand, took on the raspy, emotional tones, creating a harmonious musical unity.
Without a doubt, this is an extraordinary duet in the music industry. Their different styles when it comes to music somehow made this performance stand out from the rest.
"Pink is very talented. However, Sarah is on an entirely different level, one of the most underrated female vocalists in my lifetime," commented YouTuber Michael Hutton.
"A duet like this with these two wonderful artists brings tears to my eyes. Sarah is such a wonderful and beautiful woman, strengthening and speaking to people all over the world. Pink singing unspoken words of the silenced people, and to those who feel less than wanted or needed. These two beautiful women are so beautiful," Sky-Raven Soul-Spirit added.
Another user, Andy Sellnow, wrote that he always loved the song "Angel" and that it brought tears to his eyes from the very first note.
Written by McLachlan, the song first appeared on her 1997 album, "Surfacing." Sometimes, it is mistitled as "In the Arms of an Angel" or "Arms of the Angel."
The song was the Canadian singer's second consecutive top five hit on the Billboard Hot 100 chart.
It debuted at number 12. The following week, it jumped to the top 10. For 19 weeks, it remained at the top 10 and for 29 weeks in the top 100.
In 1999, "Angel" was the eighteenth most successful song.
McLachlan, who has been nominated for 26 Juno Awards and awarded nine, is best known for her emotional ballads and mezzo-soprano vocal range. She had sold over 30 million albums worldwide as of 2009.
In May 2014, she released her first album of original music in four years, titled "Shine On." Her best-selling album to date is "Surfacing," for which she won two Grammy Awards.
Please fill in your e-mail so we can share with you our top stories!