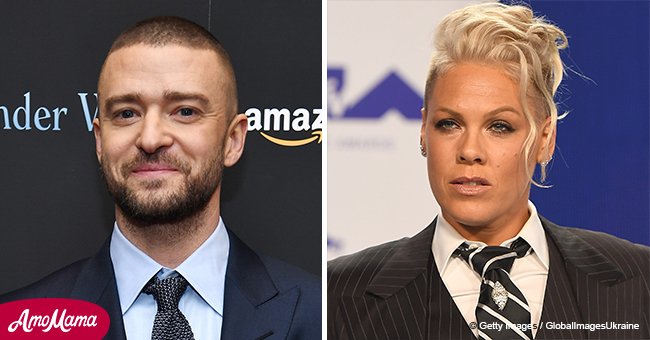 Pink caught relaxing on the beach after cancelling concert
The singer was forced to cancel three shows in the city, and plenty of her fans were incensed when photos emerged of her relaxing on a beach with her children.
Pink has been on her Beautiful Trauma tour in Australia, but was struck down ill twice while in Sydney, forcing her to cancel three shows. After canceling the first, she was spotted having a relaxing time, and many questioned whether she was actually sick.
She had contracted an upper respiratory tract infection, and she was advised by a doctor to cancel her show, according to People Magazine.
A short while later, she was photographed on Byron Beach with her two children, seven-year-old Willow and one-year-old Jameson, and many believed that she had canceled without a real reason.
The comment that captioned the image read: "Pink's Sydney concert canceled as she chills in Byron Bay."
The singer quickly took to her Instagram account to defend her actions, angry that the paparazzi would make such veiled accusations without knowing anything about her situation.
"I don't need to clear this up, but out of respect for my fans I will attempt it. I scheduled this tour meticulously, trying to do what was best for my children, while also putting on the best and most physically demanding and beautiful show of my life. This break in Byron has been scheduled since 2017, as a way to get outside the hotel and the winter and have some time with my children."
She continued, explaining that both she and her two children had been sick on the tour, and the previous two days had included two consecutive visits to doctors, antibiotics, steroids, Vick's, nose spray, throat spray, more steroids, and NyQuil.
Pink had also had to deal with a sick one-year-old screaming, and a confused daughter who needed comfort.
On top of that, she had never canceled shows and tours, and has an incredible record when it comes to showing up when she promises to.
Fortunately, she received plenty of support, with Justin Timerlake himself taking to the comments section to have her back.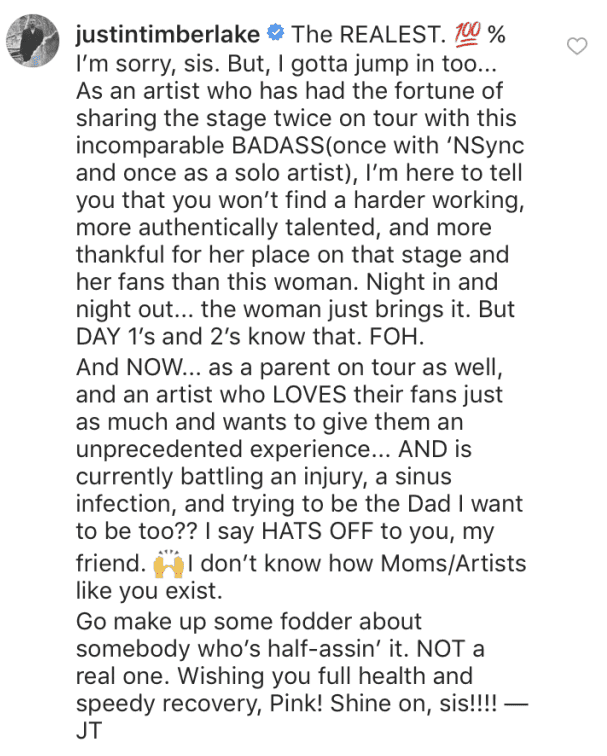 Source: Instagram/Pink
"I'm sorry, sis. But, I gotta jump in too," Timberlake began. "As an artist who has had the fortune of sharing the stage twice on tour with this incomparable [expletive] [...], I'm here to tell you that you won't find a harder working, more authentically talented, and more thankful for her place on that stage and her fans than this woman."
Other fans also stepped in to apologize for the paparazzi's intrusion, and to wish her well as she recovered from both the upper respiratory tract infection and the gastric virus that forced her to cancel a second and third show.
Please fill in your e-mail so we can share with you our top stories!