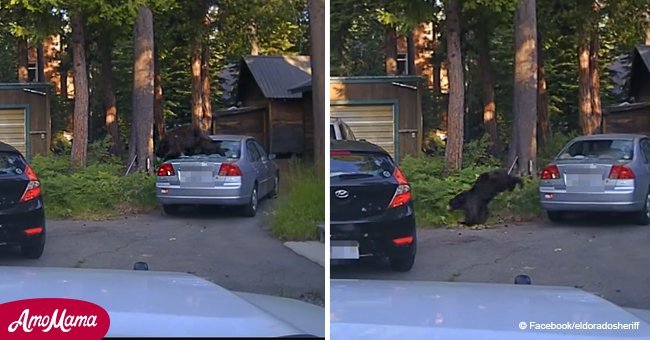 Trapped bear escapes from car after officer shoots out the back window (video)

A Sheriff's Deputy saved a bear trapped in a car in Lake Tahoe
A deputy in Northern California drew his gun and fired a shot to rescue a bear trapped inside a car in South Lake Tahoe, and the incident was reported on Facebook.
Anthony Prencipe, El Dorado County Sheriff's spokesman declared that the deputies had been called in after a bear was reported to be rummaging through a Honda Civic.
The person who called in told the officers that the bear did not seem very happy and that it was a large animal.
Responding officers found the bear trapped inside the vehicle as reported, and the animal appeared to be in distress.
The officers decided to try to break out the back window of the car in order to free the panicked animal.
Read more animal stories on our Twitter account @amomama_usa.
Several shots were fired and eventually, the window broke open. The bear jumped out quickly and headed for the nearby forest.
But how did the bear get itself into such a pickle? Prencipe explained that bears can open doors and that the animal was probably looking for snacks or treats the vehicle's owner might have left inside.
Prencipe advised any person who comes across such a situation to call the authorities, and not to get close to a trapped and frightened animal, in an attempt to rescue it.
Incidents of bears interacting with humans in urban or suburban settings are on the rise, with black bears setting up residence in states like New Jersey, Connecticut and California.
It appears that once people pushed animals away, now they are making a comeback and enjoying the perks of urban life, like shopping, or swimming in pools, as the following articles reveal.
Store customer blissfully unaware that he's standing right next to an intruding bear
Momma bear and cubs caught having a secret pool party in family's backyard
Please fill in your e-mail so we can share with you our top stories!