Paula Patton's son sings 'like Aretha Franklin' at school talent show in video by dad Robin Thicke
Famous actress, Paula Patton and her fellow celebrity husband, Robin Thicke must be very proud of their eight-year-old son right now. The youngster proved to be a chip off the old block at his school's talent show in May.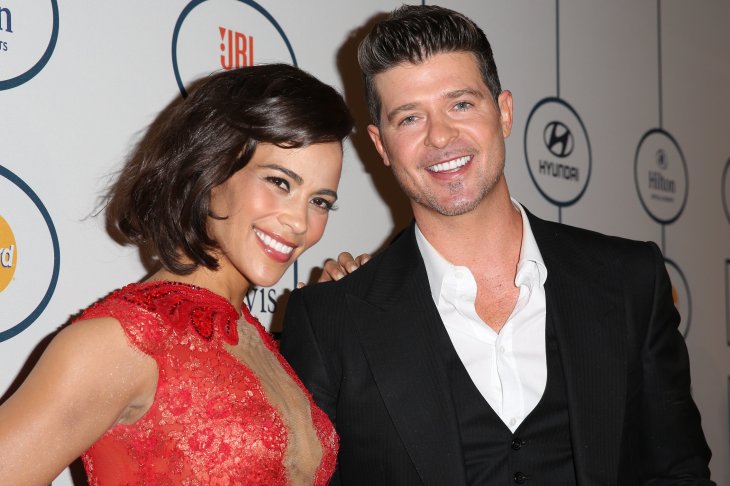 Taking to Instagram, Thicke shared a video of their son, Julian Fuego, performing a moving rendition of "Amazing Grace." Julian stood on the stage with a mic in hand. He sported white pants and a matching white shirt paired with a black blazer and trendy slip-on.
Proud dad, Thicke, who is a famous Soul and R&B singer, likened his son's talent to that of the late Queen of Soul, Aretha Franklin, who died recently. He wrote:
"Julian singing "Amazing Grace" at school talent show in May. Just like Aretha Franklin!"
It's good to see that both parents still play active roles in Julian's lives, despite their divorce and recent nasty custody battle
GOOD TIMES
Patton and Thicke welcomed Julian in April 2010 after five years of being married. The childhood sweethearts were said to be thrilled for their new addition, as was Thicke's father, Alan Thicke, who said:
"Thrilled to welcome my second fabulous grandson, Julian! He already has Robin's voice, Paula's sense of drama – he arrived a little early – and my hair. He'll visit Kirkland Lake at the earliest opportunity."
CRACKS IN THE WALL
The union soon began to suffer cheating allegations leveled against the "Blurred Lines" singer but both partners put up a united front. Even when Thicke had his infamous raunchy performance with Miley Cyrus at the 2013 MTV VMAs, Patton brushed it off:
"It's just so funny because when I saw him perform I was like, 'You guys killed it!' We hugged each other, we went out, celebrated. The next day, my cell phone [has] all these texts: 'Praying for you.' 'If you need to talk, I'm here.'"
DIVORCE AND A NASTY FIGHT OVER JULIAN
Sadly, the couple announced their divorce in 2014 to the shock of many. Their amicable divorce took a nasty turn in January 2017 when the "Jumping The Broom" actress filed an order to keep Thicke away from their son. She claimed he was physically abusive, but Thicke denied her claims, explaining:
"On a very rare occasion and only as a last resort, I will use light spanking, but it is consistent with the law — open hand on the butt. This is the type of discipline to which Paula and I agreed during our marriage."
MOVING ON
The former partners eventually reached an agreement in August of that same year, one day after Thicke welcomed a daughter with new beau, April Love Geary. Patton also revealed earlier this year that she was in a relationship with a man she met at Julian's basketball game.