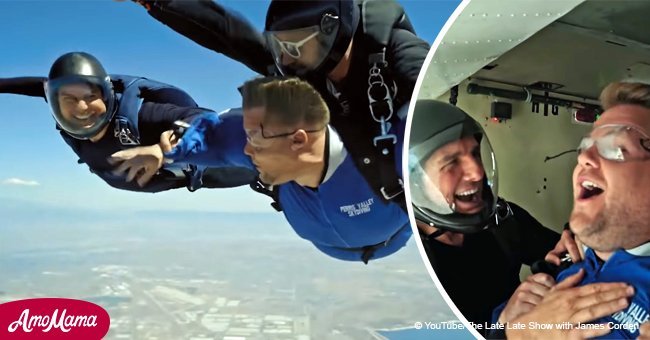 Tom Cruise holds James Cordon to his promise to jump from 15,000 feet

Tom Cruise takes James Corden on a sky-diving adventure
Hollywood action star Tom Cruise is famous for insisting on doing his own stunts, and when he went on the "The Late Late Show," he challenged host James Corden to take a leap of faith - thousands of feet up in the air from an airplane.
The Mission Impossible star, who sustained a serious injury while performing a stunt for his latest movie for the franchise, was enthusiastic, and eager to convince a reluctant Corden.
The two men's whole up-in-the-air adventure was posted on Youtube on the 26th of July 2018.
Cruise challenges Corden to a sky-diving adventure
In under a month, the video has been seen by over 14 million viewers and over 13k comments from fans of both men.
The two men went to California for their jump. Cruise jumped solo, but Corden Corden was strapped to another person - a skydiver named Danny.
Read more about Tom Cruise on our Twitter account @amomama_usa.
The action star jumped solo, but Corden needed help
Corden was nervous and doubtful of Danny's abilities even after the man told him he had jumped 7.000 times.
The video is hilarious, especially because Corden is so nervous, and uses his zany wit to disguise it.
Cruise proved that the mission was possible
The video was shown in front of Corden's live audience, who loved it and laughed uproariously at the hosts fumbling attempts at getting out of the challenge.
Corden quips that if things go wrong, the next day the news would be: "Tom Cruise killed tragically, and some other man died too."
Corden, 40, is one of America's best-loved talk show hosts and has been fronting "The Late Late Show" since 2015. He has become famous for his Carpool Karaoke in which he drives around singing with world-famous stars such as Sir Paul McCartney, Adele, Mariah Carey, Justin Bieber, Bruno Mars, Britney Spears, and Stevie Wonder.
Please fill in your e-mail so we can share with you our top stories!