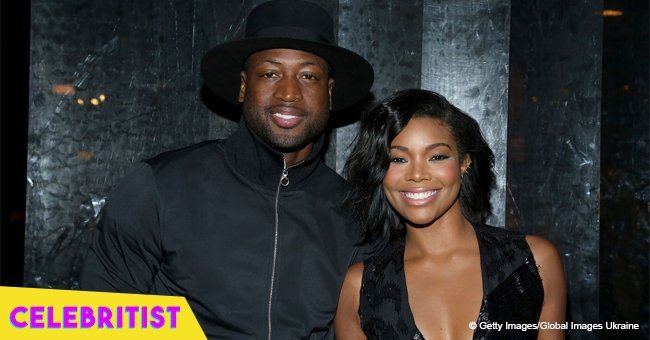 Gabrielle Union warms hearts, posing with Dwyane Wade & his sons in a 'Wade wedding' pic
Gabrielle Union recently shared a photo of herself with her husband, Dwyane Wade, and his three sons in Venice during the Wade World Tour 2018.
Union captioned the family photo, "Wade Wedding Vibes," which featured Wade's three sons, Zaire, Zion, and Xavier.
Ever since she married Wade in August 2014, Union has built a relationship with her stepsons.
In fact, she fully supports the boys and their dreams. Recently, she praised Wade's eldest son, 16-year-old Zaire for winning a Miami Pro League game.
Zaire's team won by two points, 99-97.
Union took the time to congratulate her stepson and retweeted a video of Zaire during the game, as he faced Time Hardaway Jr. from the New York Knicks.
Even though Union is grateful for her relationship with Wade's sons, she always expressed how badly she wanted to have kids with her husband.
At 45, Union revealed that the struggle has been taking its toll, but she refuses to give up.
In her 2017 book, "We're Going To Need More Wine," she admitted how her body seemingly disapproves of her carrying a baby.
For years, Union has suffered about eight to nine miscarriages.
In an interview with People, she revealed that she would have to look at her medical records since she had already lost count on the number of miscarriages she experienced.
"For three years, my body has been a prisoner of trying to get pregnant — either about to go into an IVF cycle, in the middle of an IVF cycle, or coming out of an IVF cycle. I have endured eight failed IVF cycles. … For as long as I can remember now, Dwyane and I have lived in a state of extended expectation," she said.
In spite of the struggles, Union said she keeps a positive outlook and refuses to lose hope.
At present, she enjoys spending time with her stepsons and often teaches them a lesson or two about life. Previously, she explained to her step-sons and nephew that women of color can be attractive too.
Please fill in your e-mail so we can share with you our top stories!