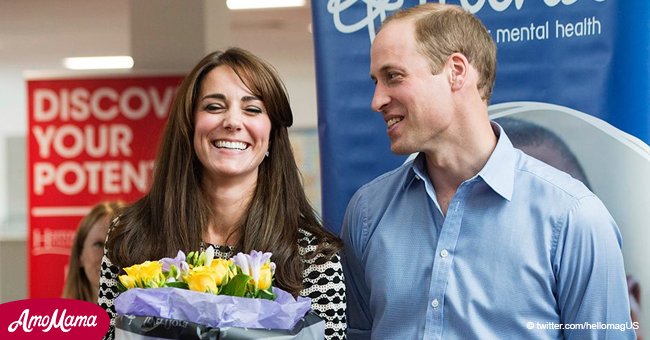 Here is why Kate Middleton and Prince William broke up in 2007
In 2007, four years after they began dating and four years before getting married Prince William and Duchess Kate broke up. The young couple needed some time to find themselves.
Their break-up was brought on by a number of things including the fact that they were young and needed to find themselves. Another reason was that Prince William neglected his then-girlfriend.
When the story broke of Prince William and Kate Middleton's break-up, Clarence House took out a simple statement. They said, "We don't comment on Prince William's private life."
Things started going sour for the couple in late 2006 when Kate's family invited William to celebrate New Year's Eve with them. The Middletons had booked Jordanstone House in the snowy countryside on the outskirts of Alyth, North of Dundee in Scotland.
For more on this story go to our Twitter account @amomama_usa. William had agreed to come, but later changed his mind and this didn't sit well with Kate.
Before that, the Prince had also spent the holidays in Sandringham with the Queen which was a strict Royal tradition. At the time, his girlfriend was not allowed to join the family festivities because they weren't married.
After the New Year, William had military commitments with the Household Cavalry at Bovington Barracks in Dorset for three months. This caused the couple to not see each other.
Coverage by the media hailed Kate as the possible new Royal Bride and the aggressive attention she got made her even more uncomfortable with her relationship.
Meanwhile, William was also going out a lot with other men in the barracks. On a number of occasions, he was seen drinking, dancing, and "being flirty" with women in London, which further enraged his partner.
According to "Kate: A Biography" by Marcia Moody, by April 2007, the couple had separated. They both tried to carry on with their separate lives with William still in the army and Kate going out more and taking part in events.
However, a few months later on June 9, the two secretly got back together when they realized they couldn't be without each other. During their vacation in Kenya in October William presented Kate with the same 12-carat oval blue Ceylon sapphire ring worn by his late mother, Princess Diana, and asked her to marry him.
"I didn't really plan it that far in advance," William told reporters after the engagement was made public. "I just knew I wanted it to feel comfortable where I did it and I wanted it to mean something, other than just the act of getting engaged," he said.
In April 2011, the couple went married and welcomed their first child, Prince George, two years later. Princess Charlotte followed in May 2015 and their last born, Prince Louis, came this year.
In a joint interview after their engagement, William opened up about their break-up, "We were both very young . . . we were both finding ourselves and being different characters."
He added that "It was very much trying to find our own way and we were growing up so it was just a bit of space, and it worked out for the better."
Please fill in your e-mail so we can share with you our top stories!