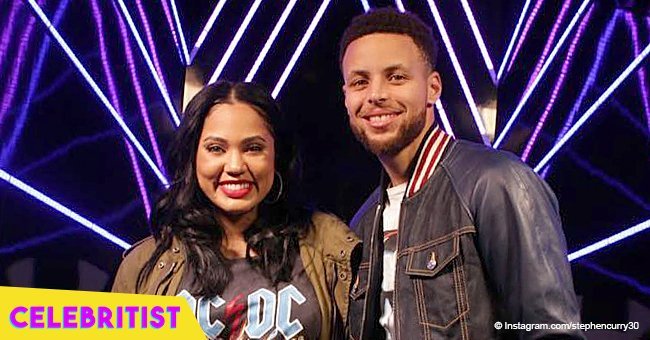 Ayesha Curry flaunts post-baby curves in leather shorts and high heels in pic with husband
Ayesha Curry cherishes her family and continues to show it. She shared a picture of herself posing with her husband and revealed the talented photographer behind the snap.
Ayesha was pictured cuddling up to her husband, NBA player, Stephen Curry. Stephen was dressed in a blue shirt, black pants, and matching boots. Ayesha, on her part, chose a long-sleeved top worn over black leather shorts and high-heeled boots.
READY... SET... SNAP!
The mom-of-three who gave birth to their son, Canon last month, flaunted her post-baby curves and toned legs in the photo taken by an exceptional photographer. Ayesha revealed in her caption that their eldest child, six-year-old Riley Elizabeth was the genius behind the camera.
STEPHEN THE CELEBRITY VS. STEPHEN THE DAD
The Currys have always been a close-knit family, as can be seen from their photos on social media, and for many people, Ayesha, Stephen, and their three munchkins are "family goals." The 29-year-old mom revealed in an interview that despite her husband's celebrity status and tight schedule, he's always down to hang out with the kids:
"The thing I love about him is that he's not too cool for school. He'll get down on the floor and play with the girls. He'll put on dress-up clothes if he has to, and he's very patient, which is something I'm not. We balance each other out."
HOW DOES AYESHA KEEP HER BALANCE?
Likewise, Ayesha, who stays busy as a celebrity chef on her tv show, still makes time to support her husband at his games and cook meals for her brood. Asked how she copes with it all, the "Seasoned Life" author quipped:
"The key is learning to thrive in the Chaos, realizing nobody has true balance. There is beauty in the chaos."
LIVING WITH PERFECT IMPERFECTIONS
This model couple did not always have it together though. Ayesha confessed how nervous she was after finding out she was pregnant with Riley. According to her, she was in the midst of making career decisions when they found out.
Now, they love nothing more than taking care of their kids. Ayesha recalled how it felt at first during their early days of being parents:
"The amount of stuff you get done in a day is insane. Like, what were we doing with our time before kids? I feel like I should have invented something. [Laughter.] Also, it's an event to get all four of us out of the house at once. When we get in the car and we've brought everything and everybody has socks on, it's like a dream come true."
The couple recently celebrated their 7th wedding anniversary and took to Instagram to shower each other with sweet words.
Please fill in your e-mail so we can share with you our top stories!