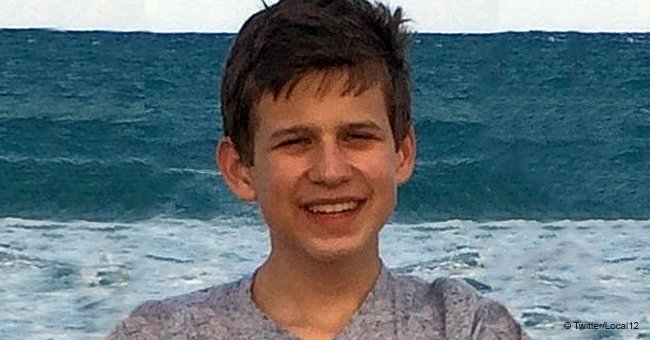 'Tell my mom I love her': Teen's final moments before suffocating in his car

16-year-old Kyle Jacob Plush placed two 911 calls as he lay in the parking lot of Seven Hills school. Despite that, his lifeless body was found hours later by his father.
WCPO reported on the scene soon after the horrible incident took place. Plush was at the school to attend a tennis match, but he forgot his racquet in the vehicle and returned to get it.
Plus became trapped underneath a seat in the vehicle. He placed the first call to 911 just after 3 p.m. on a Tuesday afternoon using voice commands.
"Help, help, help. I'm stuck in my van outside the Seven Hills parking lot. Help. I need help."
Follow us on Twitter for more @amomama_usa.
Plush's phone was out of reach so he couldn't hear the dispatcher who picked up. She sent out local police in the area from which the call was made. Finding nothing, they questioned if it was a prank.
The officers attempted to call back the number, but it went straight to voicemail. Soon, Plush managed another call. This time he revealed crucial information to the dispatcher.
"This is not a joke. I am trapped inside a gold Honda Odyssey van in the parking lot of Seven Hills... Send officers immediately. I'm almost dead."
The dispatcher, Amber Smith, for some reason, did not relay these details which could have led to the officers finding the dying boy. The officers searched at least five parking lots associated with the school, two of which were fairly close to Plush's location.
They found nothing and left the area. Six hours passed before Plush was found by his father who went to the school when his son didn't come home.
The heartbreaking recordings of the 911 calls were played by only some news outlets out of respect for the family of the young boy.
Source: YouTube
Some of Plush's final words included a tear-jerking request. "I probably don't have much time left, so tell my mom I love her if I die," he pleaded.
Hamilton County Prosecutor Joseph explained the devastating events that led to Plush's death.
"The young man was trapped in the third-row bench seat, and it is called positional asphyxiation."
Source: YouTube
Deters called for a full investigation, which led to the second 911 dispatcher being placed on administrative leave. Grief counselors at the school were readily available for friends of the deceased student.
The Cincinnati Police Chief Eliot Issac initiated the investigation Thursday on Facebook Live on WCPO's page with a heartfelt speech that included the following words:
"The one thing that we do know is that on that second 911 call, something has gone terribly wrong. This young man was crying out for help, and we weren't able to get that information to the officers on the scene, and we need to find out why."
Back in July 2018, a little girl was murdered on her own street when four masked men started shooting into a crowd. She lay dying in her mom's arms moments after walking home with ice cream.
Another devastating event occurred earlier that same month when a collision left five dead near Townsend, Delaware. Mary Rose Ballocanag was the only survivor of the crash that killed her husband and four daughters.
Please fill in your e-mail so we can share with you our top stories!