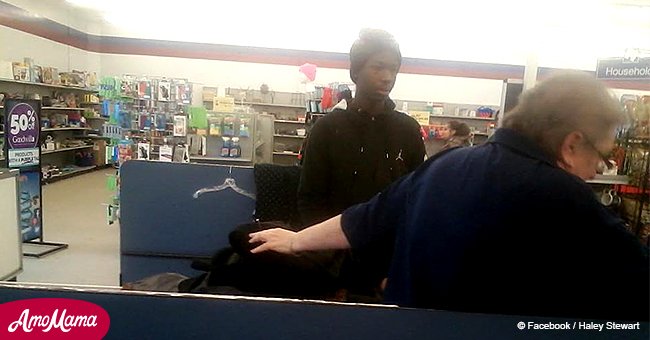 Teenager buying coats for random homeless people has inspired others to do the same
A man who ran into him in the middle of his mission was so impressed by this boy's act of kindness that he wanted to share it with the world, and it ended up touching many hearts and becoming an example.
19-year-old Fredrick White from Canton, Ohio, wanted to pay it forward to the community by helping homeless people. With this in mind, he visited the local Goodwill, and the last thing he expected was to become internet famous.
He had been trying to figure out how he could make a difference for a while when he found the inspiration he needed in a Facebook post that showed people leaving jackets in public places for people in need to use them, WKYC reported.
White used all the money he could spare to buy several coats at the charity shop, where he caught the attention of John Glasgow, who was so impressed by this young man's care for others and decided to tell his story.
Glasgow spent some time talking with White to find more about what he was doing, and he took a picture of the teenager as he was paying for the coats he was going to hand out to the homeless people. Read more on our Twitter account @amomama_usa
When Glasgow returned home, he asked his daughter, Haley Stewart, with a better understanding of social media, to post the snapshot of White and his story.
"My dad saw this amazing young man buying $65 in coats for the homeless in canton goodwill today. We don't know who you are sir but you deserve recognition! Keep being an amazing person!"
-Haley Stewart, Facebook, December 29, 2017.
As soon as the story was made public, it started to gather positive reactions and a wave of comments that celebrated White's spirit and empathy, hoping that others could learn from him.
"How awesome and a great example to us all! Well done young man! I wish you all the best!" wrote Facebook user Debbie Bosley.
"Good deeds like that never go unnoticed and I believe that what goes around comes around! Good For you young man!" Linda DeRenzo DePasquale added.
"I hope everybody who has read this post, pays it forward. If you don't have the money to buy a coat, go through your closet," commented Lisa Bailey Sadel.
Stewart's post has been shared more than 733 times and received more than 600 reactions. It eventually reached White, who was surprised to recognize himself in the publication, unaware that he had been captured in a photo.
"I was at work and I was like, 'oh my god,' they snapped a picture of me," White told WKYC on January 2, 2018. It was only four days after his initiative was put in motion and he was already making headlines.
In the times of people going viral for silly things, it is great to find stories such as this, that could really make the world a better place, and it gives us hope seeing people responding to it.
"One good deed for each person. Just wake up and do something different," is all White expects from people who feel inspired by him to do.
We might be tempted to believe that we live in a world when people only care about themselves without worrying for others, but if we know where to look, we will discover many random acts of kindness taking place.
Bus driver Thaddaus Turner from Milwaukee, for instance, also enjoyed his share of social media stardom after being captured by surveillance cameras as he left his bus to help a blind man reach his desired destination.
Another remarkable example of people gaining recognition for the right reasons would be a bartender named Beck, who didn't think twice to offer a proper meal and something to drink to a homeless man.
These stories show that one could be of help and pay it forward from any position one is. All one has to do is to be attentive and caring for others.
Please fill in your e-mail so we can share with you our top stories!